CHOC Children's Publications
Physician Connection


A Communication Service for Physicians from CHOC and CHOC at Mission. Please Note: Physician Connection is no longer being printed and is now available electronically. Please visit our blog at http://docs.chocchildrens.org for the latest articles for our physician community. You can also receive our electronic Physician Connection newsletter in your inbox by subscribing to our mailing list: http://www.choc.org/subscribe

---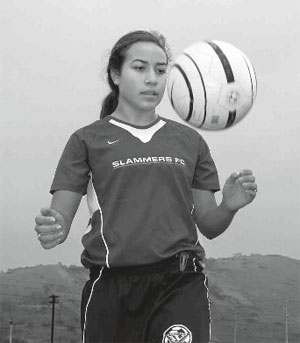 CHOC Sports Medicine Program Opens Irvine Office

Comprehensive, sports physical therapy services are now available much closer to home for young South Orange County athletes. The CHOC Children's Sports Medicine Program has opened a new office in Irvine to provide sports medicine physical therapy for school-age children and pre-collegiate teens.
With year-round sports participation and an intense competitive environment, Orange County's young athletes are at greater risk for injury, particularly overuse syndrome, at earlier ages, said CHOC pediatric orthopedic surgeon John Schlechter, D.O.
"We are addressing the many issues associated with competitive youth sports, including pre-season screening for injury prevention, nutrition, sports psychology and physical rehabilitation," Dr. Schlechter said. "Our goal is to work in conjunction with primary care physicians in order to provide the best care for athletes."
The CHOC Children's Sports Medicine Program, the only one of its kind in Orange County, is supported by CHOC cardiologists, pulmonologists, allergists, neurologists and neurosurgeons. Additionally, a CHOC neuropsychologist has received ImPACT (Immediate Post- Concussion Assessment and Cognitive Testing) certification to use this computerbased approach to assess, treat and monitor sports-related concussions.
Pilot Program For Irvine Schools
CHOC is taking research-driven, evidence-based practices to four Irvine high schools through a pilot program with the Irvine Unified School District. With support from the Anaheim Ducks' "Duck Wives," a mobile van has been outfitted with two treatment rooms and is visiting the high schools to conduct pre-season musculoskeletal and cardiac evaluations. CHOC is also available throughout the year to provide consultative services to athletic trainers countywide.
"Pre-season musculoskeletal physicals are very important for identifying risks for injury, and as well as potential overuse syndrome," said CHOC orthopaedic specialist Mollee Smith, P.T., D.P.T., O.C.S. "Joint laxity, chronic sprains and improper training are just a few reasons kids may develop problems down the road, especially if they are competing." In addition to providing care at the CHOC Children's Sports Medicine Program in Irvine, she presents injury prevention education for coaches, athletic trainers, teachers, parents and students.
The CHOC Children's Sports Medicine Program Irvine office is located at 980 Roosevelt, Suite 100. For more information, please call (714) 289-4054.
Sports Medicine for Children, Teens
Comprehensive rehabilitation services available at the CHOC Children's Sports Medicine Program in Orange and Irvine include:
Ankle instability
ACL injuries
Cartilage injuries
Concussion management
Fractures
Joint dislocations
Knee pain
Labral tears (shoulder and hip)
Legg-Calve-Perthes disease
Meniscus tears
Osgood-Schlatter disease
Osteochondral defects
Overuse injuries
Pateller instability
Pitching-related shoulder conditions
Scoliosis
Spine disorders
Sever's disease
Shoulder instability
Slipped Capital Femoral Epiphysis