CHOC Children's Publications
Physician Connection


A Communication Service for Physicians from CHOC and CHOC at Mission. Please Note: Physician Connection is no longer being printed and is now available electronically. Please visit our blog at http://docs.chocchildrens.org for the latest articles for our physician community. You can also receive our electronic Physician Connection newsletter in your inbox by subscribing to our mailing list: http://www.choc.org/subscribe

---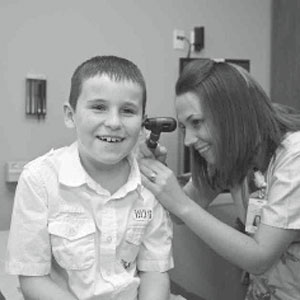 CHOC Adds New Specialties to Newport Beach Center

Last fall, the CHOC Children's Specialty Center opened at Hoag Health Center- Newport Beach in order to support local pediatricians and improve access to subspecialty pediatric care for coastal Orange County families. By the end of this fiscal year, the new center will have logged about 2,000 patient visits.
Endocrine, neurology and orthopaedics are receiving the highest number of referrals in the coastal Orange County area, according to Kathy Kolodge, executive director of CHOC Children's Ambulatory Care. Several pediatric subspecialists from CHOC Children's Hospital are providing consultation and treatment at the new center:
Cardiology
Endocrinology
Gastroenterology
Genetics
Hematology
Infectious Diseases
Nephrology
Neurology
Pulmonology
PODER Diabetes Education Available in English, Spanish
Carb counting, insulin pump training, teen driving classes and events supported by the P.A.D.R.E. Foundation are some of the many educational activities available at the CHOC Children's Endocrine and Diabetes Center. Also available to local families is PODER (Prevention of Obesity and Diabetes through Education and Resources).
This program, which began in 2005 with a generous grant from Hoag Hospital Foundation, now offers educational materials in both English and Spanish.
PODER is designed to help children and families prevent the onset of Type 2 diabetes:
Individual counseling
Group education
Healthy cooking classes
Healthy lifestyle activities
Family participation in research
Located inside the Mary and Dick Allen Diabetes Center at Hoag Health Center-Newport Beach, the CHOC Children's Endocrine and Diabetes Center provides leading-edge care for Type 1 and 2 diabetes and other endocrine disorders. The program features three certified diabetes educators to help patients and parents better manage the disease.
Centralized Access Number For Physicians
The CHOC Children's Specialty Center and the CHOC Children's Endocrine and Diabetes Center are located at 500–520 Superior Avenue, Newport Beach. For more information about appointments, PODER or other educational activities, please call (949) 631-3603.