CHOC Children's Publications
Physician Connection


A Communication Service for Physicians from CHOC and CHOC at Mission. Please Note: Physician Connection is no longer being printed and is now available electronically. Please visit our blog at http://docs.chocchildrens.org for the latest articles for our physician community. You can also receive our electronic Physician Connection newsletter in your inbox by subscribing to our mailing list: http://www.choc.org/subscribe

---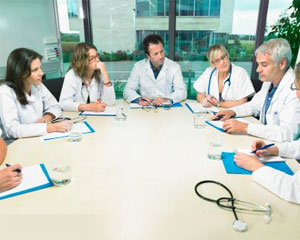 CHOC Hosts National Sudden Cardiac Death Symposium

Friday, January 14, 2011, 7:30 a.m. – 4:30 p.m.
Saturday, January 15, 2011, 8 a.m. – 5 p.m.
Disney Grand Californian Hotel® & Spa, Anaheim
Orange County, California, has the highest number, per capita, of NCAA, Olympic and elite athletes in the nation. The county also experiences a disproportionately high number of catastrophic events on the playing field, especially in junior and high school sports.
In January, the CHOC Children's Heart Institute is presenting the first annual CHOC symposium on the diagnosis, therapy and prevention of sudden cardiac arrest in children and adolescents. Faculty from the Heart Institute as well as from nationally lauded pediatric heart programs will discuss the following topics:
Clinical syndromes associated with risk of sudden death
Use of automated external and implantable defibrillators
Screening, with emphasis on defining the evidence for, and areas of controversy in, management decisions
CHOC designates this educational activity for a maximum of 14 AMA PRA Category 1 Credits.™ For more information or to register, visit www.choc.org/ cardiacconference or call (800) 329-2900.
Third Annual LEAPS Conference
Thursday, January 13, 2011, 1 p.m. – 5 p.m.
Disney Grand Californian Hotel® and Spa, Anaheim
Physicians are also invited to attend the third annual LEAPS (Life-Threatening Events Associated with Pediatric Sports) conference, which will evaluate current and future strategies for prevention of sudden cardiac arrest in Orange County youth. The LEAPS coalition, comprising professionals from CHOC Children's; the University of California, Irvine; American Academy of Pediatrics; Orange County Fire Authority; and the Orange County Department of Education, is presenting this vital information for pediatricians, first responders, athletic trainers, school coaches, nurses, teachers and parents.
For more information, call (714) 327-8195.