CHOC Children's Publications
Physician Connection


A Communication Service for Physicians from CHOC and CHOC at Mission. Please Note: Physician Connection is no longer being printed and is now available electronically. Please visit our blog at http://docs.chocchildrens.org for the latest articles for our physician community. You can also receive our electronic Physician Connection newsletter in your inbox by subscribing to our mailing list: http://www.choc.org/subscribe

---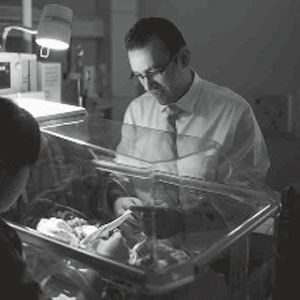 Extremely Low Birth Weight Unit Opens at CHOC

Published medical literature reports better patient outcomes in neonatal intensive care units that provide specialized, guideline- driven care for a high volume of the sickest and smallest newborns. In March 2010, CHOC Children's opened a 12-bed unit adjacent to the NICU, as part of the Extremely Low Birth Weight Program (ELBW), specifically for neonates born at less than 28 weeks gestation or who weigh less than 1,000 grams.
The ELBW Program is the first of its kind in the region. Every aspect of the program, including staff selection and training, low-stimulus environment and treatment guidelines, has been specifically designed around these neonates' particular needs. CHOC has long been at the forefront of innovation in neonatal medicine. The ELBW Program is the latest phase of a continuing endeavor to provide the most advanced pediatric subspecialty care for the youngest patients and their families.
CHOC neonatologists have long recognized that infants born at less than 28 weeks gestation, or who weigh less than 1,000 grams comprise a special population within the NICU. While these patients were already receiving very good care, CHOC physicians wanted to implement changes that, based on medical literature, could improve outcomes. The research indicated that these fragile patients could greatly benefit from guideline-driven care provided by a dedicated and specially trained team, within a low-stimulus environment.
According to CHOC neonatologist Antoine Soliman, M.D., implementing such a program is challenging, but the Extremely Low Birth Weight (ELBW) Program, also known as the "Small Baby Unit," quickly gained internal support. CHOC physicians, nurses, respiratory therapists, physical therapists, occupational therapists, nutritionists, lactation consultants and pharmacists received extra training for the care of these special neonates.
The design of the Small Baby Unit incorporates dimmed or natural lighting and noise abatement in order to provide the least-stimulating environment possible. Special noise-absorbing tiles line the floor and ceiling, and the walls curve away from each other in order to deflect sound. The overhead loudspeaker volume has been lowered and a sign cautions visitors to speak in soft tones.
ELBW treatment guidelines include strategies to avoid chroniclung disease, improve nutritional outcomes and prevent acquired illnesses:
Non-invasive ventilation, such as the "bubble" CPAP, which reduces the need for intubation.
Early implementation of breast milk feedings and protein-enriched parenteral nutrition supplementation.
Vigilant infection control practices, including aggressive strategies for discontinuation of central venous lines.
It's only been a few months since ELBW opened, but Dr. Soliman is already pleased with measurable improvements in patient outcomes.
"As our clinical care improves, most of our babies are going home in good health, without a need for supplemental oxygen orfeeding tubes," Dr. Soliman said.
Families Embrace "Small Baby" Concept
Extremely low birth-weight neonates may spend up to three or four months in neonatal intensive care. Dr. Soliman said this can be very difficult for parents whose fragile newborns are hospitalized in a regular NICU and watch as larger, healthier babies come and go.
"Now our parents are in an environment in which all the babies are similar to their baby," Dr. Soliman said. "After a while, they can look down the hall and see new babies coming in who look how their baby used to look. We partner with the parents in caring for their infant from the very beginning. By the time they are ready to go home, the ELBW staff has done an amazing job of educating them to become excellent caretakers for their baby."