CHOC Children's Publications
CHOC Children's Annual Report


Everyone in Orange County is somehow connected to CHOC Children's. If it's not your own children that have been treated by our team of pediatric experts, chances are you know a few that have. Among friends, neighbors, coworkers, even people we encounter in our daily travels—CHOC is a common bond we all share. In this report, you will learn about some of our finest moments.

---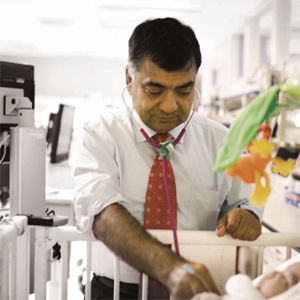 Exceptional Team Effort Saves Newborn

Any available neonatologist to the Emergency Department STAT, the hospital operator paged over and over. Even the non-clinical staff at CHOC knew something unusual was happening. In the 15 years he had worked at CHOC, Vijay Dhar, M.D., had certainly never seen anything like it: a cesarean-section performed in a hospital emergency department. But that's what was happening. Paramedics had brought in a very pregnant woman in full cardiac arrest.

The woman wasn't breathing, which meant her baby wasn't either. Within minutes, the baby was delivered and handed over to the waiting Neonatal Intensive Care Unit (NICU) team of physicians, nurses and respiratory therapists. The baby appeared to be lifeless, but the NICU team detected a faint heartbeat. They immediately started CPR and ventilator treatment to help the baby breathe.

Still, the prognosis wasn't good. Both a blood test and EEG showed the baby's brain had been significantly impacted by the lack of oxygen. A poor neurological outcome was likely. But Dr. Dhar and his team had a new treatment option. In early 2010, CHOC implemented new technology for full-term infants born with moderate to severe oxygen deprivation. The FDA-approved Olympic Cool-Cap System uses tubes of circulating water to lower brain temperature up to 5 degrees Celsius.

When initiated within six hours of birth, this state-of-the-art technology has been shown to minimize the risk of newborn death and disability associated with oxygen deprivation. This baby was a perfect candidate, and Dr. Dhar and his team started the treatment. Seventy-two hours later, the baby's brain was gradually rewarmed. The NICU team was heartened to see that she was breathing on her own and showed excellent clinical response, including normal muscle tone and reflexes. But they held their breath while waiting for the results of the follow-up MRI scan — the best prognostication tool for the baby's future neurological outcome. The results were completely normal.

"Unbelievable," Dr. Dhar said. "The MRI was repeated two weeks later, and once again reflected a normal outcome." The baby is receiving follow-up assessment and care at the CHOC Early Developmental Assessment Clinic (EDAC), and continues to meet developmental milestones.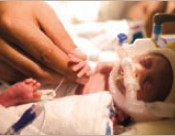 SSSSH, TINY BABIES ARE GROWING HERE
Earlier this year, CHOC Children's opened a special unit within the NICU that focuses on caring for the unique needs of the smallest and sickest babies. the Small Baby Unit, designed for babies born at less than 28 weeks gestation or who weigh less than 1,000 grams, is the only one of its kind in the Orange County area.

"These babies are fragile and need a certain environment and care in which to thrive," said antoine soliman, m.D., medical director of the cHoc extremely low birth-weight program. "published studies show that these babies do better in a dedicated, high-volume program in which a specially trained team provides guidelines-driven care." the new unit is staffed with a specially selected team of highly trained and dedicated nicU nurses, as well as respiratory therapists, physical therapists, occupational therapists, nutritionists, lactation consultants and pharmacists who have undergone advanced education.

The Small Baby Unit has been designed to be as womb-like as possible to aid in development. the lighting is dimmed, and voices and other noises, including the hospital's overhead paging system, are reduced to "library level." the unit has noiseabsorbing tiles on the floor and ceiling. even the walls curve away from each other in order to deflect sound. "the cHoc nicU has been serving the needs of the community for a long time," Dr. soliman said. "we are excited to enhance our services to improve care and outcomes for our population."