CHOC Children's Publications
CHOC Children's Annual Report


Everyone in Orange County is somehow connected to CHOC Children's. If it's not your own children that have been treated by our team of pediatric experts, chances are you know a few that have. Among friends, neighbors, coworkers, even people we encounter in our daily travels—CHOC is a common bond we all share. In this report, you will learn about some of our finest moments.

---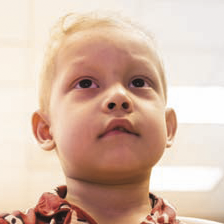 There's no such Thing as an ordinary day at CHOC Children's.

That's because the patients at CHOC Children's and CHOC Children's at Mission Hospital are anything but ordinary. Each child who enters our doors has a special story and a unique set of circumstances.
Caring for these patients is becoming increasingly more complex, but CHOC remains at the forefront of exciting breakthroughs in pediatric medicine. Our world-class physicians, surgeons, nurses and other dedicated pediatric healthcare professionals possess a level of skill and experience that is unparalleled within the region. At CHOC, we are literally shaping the future of pediatric medicine. Our international team of leading specialists is conducting the basic research necessary to develop better diagnostic tools and treatment for the most challenging childhood conditions.
We're also developing better strategies for prevention and enhancing quality of life. We draw referrals from throughout a four-county area, which means more than a hundred hospitals are depending on us to take care of their sickest patients. And when they send their patients to us, they trust we'll care for the rest of the family, too.
We will simply do whatever it takes to nurture, advance and protect the health and well being of children — because we couldn't do any less.