CHOC Children's Publications
Kid's Health (Archive)


Our award-winning Kid's Health Magazine is designed to provide healthful information for your growing child. Please Note: Kid's Health Magazine is no longer being printed. Please visit our blog at http://www.choc.org/blog for the latest articles about your child's health from the experts at CHOC Children's. You can also receive our electronic Kid's Health newsletter in your inbox by subscribing to our mailing list: http://www.choc.org/subscribe

---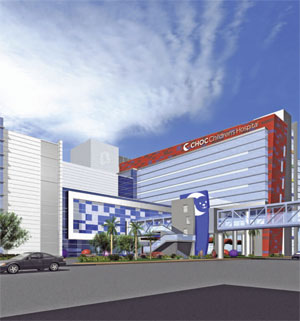 CHOC's New Tower Is a Beacon for Children's Health and Safety

When CHOC Children's new, seven-story tower opens its doors in spring 2013, Orange County's landscape will be forever changed. The new tower is a symbol of the hospital's dedication to improving the lives of kids across Orange County—and beyond.

Building a world-class children's hospital means providing patients with the most sophisticated care possible. The hospital is incorporating the highest level of quality and safety, in addition to utilizing leading-edge technology.

Expanding Pediatric Services The new tower will enable the expansion of pediatric heart, neuroscience and cancer services that the hospital already provides. It will also house the following pediatric ancillary services:

Pediatric emergency department
Cardiac catheterization and cardiology procedure rooms
Gastrointestinal/endoscopic procedure rooms
Advanced radiology department
Leading-edge imaging services
State-of-the-art pathology lab
Providing Peace of Mind for Patients and Their Loved Ones
Experts at CHOC Children's know that when a child is sick, the whole family is affected. "The family represents a big part of a child's care and recovery," says Waldo Romero, vice president of design and construction at CHOC Children's. That's why the second floor will be dedicated to the well-being of both patients and their families.

It will feature:
A new dining space and café with an outdoor patio and serene gardens
A safe and secure outdoor play area for children
Preteen and teen activity rooms
Classrooms
A reference library where families can research their child's illness and treatments
A meditation room
An expanded hospital gift shop
Leaving 'Room to Grow'
When completed, the tower will add more than 425,000 square feet to CHOC's Orange campus. While the majority of the space has already been accounted for, the structure will include shelled space, intended to accommodate the future needs of the region's growing pediatric population.

"The tower will allow us to provide state-of-the-art care to all children for generations to come, and represents a major leap towards CHOC's vision of becoming a nationally recognized, premier children's hospital," Romero says.

Change CHOC, Change the World
The new CHOC Children's tower is more than a physical structure. It is a symbol of CHOC's commitment to making Orange County one of the healthiest and medically safest places in the country for children.

To make it a reality, CHOC launched the Change CHOC, Change the World campaign. Its goal is to raise $125 million by June 30, 2013 to support three initiatives:
Complete construction on the new CHOC tower.
Garner a significant endowment to fund medical research and attract doctors who are among the best in their fields.
Continue building upon CHOC's affiliation with the University of California, Irvine, which will help CHOC recruit top pediatric physicians and solidify its position as a world-class center for pediatric care.
To learn more about the campaign, visit www.choc.org/changetheworld.