CHOC Children's Publications
Kid's Health (Archive)


Our award-winning Kid's Health Magazine is designed to provide healthful information for your growing child. Please Note: Kid's Health Magazine is no longer being printed. Please visit our blog at http://www.choc.org/blog for the latest articles about your child's health from the experts at CHOC Children's. You can also receive our electronic Kid's Health newsletter in your inbox by subscribing to our mailing list: http://www.choc.org/subscribe

---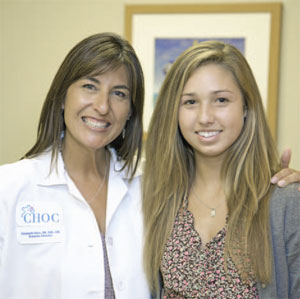 Teen Doesn't Let Diabetes Interfere with Active Lifestyle

Elizabeth Beko, R.N., has helped Megan Zwerling (right), learn to manage her diabetes so Megan can maintain her active, healthy lifestyle. When Megan Zwerling is not running cross-country for her high school track team, you might find her swimming or working out at the gym. You'd probably never guess that she has diabetes.

"Most people are pretty surprised when they find out," says Megan. "I was afraid people might treat me differently if they knew I had diabetes, but so far everyone has been really supportive."

Megan, 16, was diagnosed with type 1 diabetes in 2008, after a routine exam showed glucose in her urine. "It was really a shock because Megan had always been so athletic and healthy," says her mother, Val Zwerling. "We were lucky to have found it early, before the symptoms had even started."

Community Care
The CHOC Children's Endocrine and Diabetes Center provides education and outreach to the coastal communities. After her diagnosis, Megan was referred to CHOC Children's for her care. When the CHOC Children's Endocrine and Diabetes Center opened at Hoag Health Center-Newport Beach last fall in partnership with the Mary and Dick Allen Diabetes Center at Hoag, Megan transferred to that office, since it's much closer to her home in Corona Del Mar.

"We opened the center here to be more convenient to the coastal communities," says Elizabeth Beko, R.N., a certified diabetes educator who works with Megan at the center in Newport Beach. "We also wanted to provide community education to the area."

In addition to seeing patients for diabetes care, the state-of-the-art center participates in research studies, and offers a prevention program for type 2 diabetes that helps local families learn more about healthy eating and physical activity. The center also offers one-on-one and group diabetes education as well as cooking classes.

Managing Diabetes
The transition to Newport Beach has been positive for Megan. She works closely with Beko to keep her diabetes well-managed so she can continue her active lifestyle. This means checking her blood sugar often and giving herself daily shots of insulin. A straight-A student, Megan dreams of attending Stanford and running on the track team. She doesn't plan on letting diabetes interfere with her goals.

"Managing diabetes involves a lot of trial and error, but I learn more about diabetes every day I live with it," says Megan.

Expert Care
Although Megan has learned how to take care of herself, she still depends on the expertise of her diabetes team when she has questions. "We've built a nice friendship," says Beko. "Megan knows she can trust me, and that I'm here to help."

What you'll find at Hoag Health Center - Newport Beach
In addition to the Endocrine and Diabetes Center, Hoag Health Center– Newport Beach also houses the CHOC Children's Specialty Center. It offers the following outpatient services:
Cardiology
Gastroenterology
Genetics
Hematology
Infectious Diseases
Nephrology
Neurology
Pulmonology
Hoag Health Center–Newport Beach is located at 500-520 Superior Ave., Newport Beach. For more information, please call 949-631-3603.