CHOC Children's Publications
Kid's Health (Archive)


Our award-winning Kid's Health Magazine is designed to provide healthful information for your growing child. Please Note: Kid's Health Magazine is no longer being printed. Please visit our blog at http://www.choc.org/blog for the latest articles about your child's health from the experts at CHOC Children's. You can also receive our electronic Kid's Health newsletter in your inbox by subscribing to our mailing list: http://www.choc.org/subscribe

---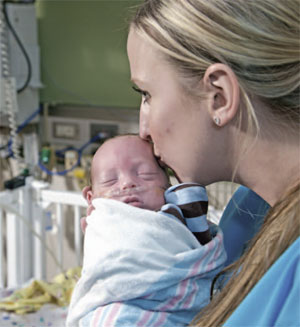 Making Miracles Happen: CHOC's Small Baby Unit

Imagine your new infant is so small that you measure his or her weight in grams instead of pounds. That's the case for many babies born extremely premature. While many more of these babies are surviving, they need specialized medical care in order to thrive. CHOC Children's now has a unit that focuses on caring for the unique needs of the smallest premature babies—those born at less than 28 weeks or weighing less than 1,000 grams. The unit, which opened earlier this year, is the only one of its kind in Southern California.

Tiniest Babies Have Unique Needs
Designed expressly with low birth weight babies in mind, the Small Baby Unit is located in a separate wing of the neonatal intensive care unit (NICU) at the hospital with its own dedicated team of specialists.

"These smallest preemies have some unique needs," says Antoine Soliman, M.D., a CHOC Children's neonatologist. "So we've designed the unit specifically to meet those needs."

One way these needs are met is through the physical environment of the unit—the lights are kept dimmed, and voices and other noises are reduced to "library" level. "Because many of these babies are not fully developed, we try to keep the unit as much like the womb as possible," explains Dr. Soliman. "We've found that the environment is really important because so much of their development is happening while they are here."

Limiting the amount of stimulation the babies receive also helps aid in their development.

In fact, every aspect of the babies' care in the unit has been adjusted to meet their needs—from the way they are handled and positioned to the way their diapers are changed.

Specialized Staff
Learning a new way to change diapers for these small and vulnerable newborns was just one part of the specialized training the unit's nurses undertook. "It was very important to us to have a dedicated nursing team for this unit who were trained to work with these babies and cater to their needs," says Linda Glenn, M.N., R.N.C., N.E., director of clinical services for the NICU.

Having a smaller, separate unit allows the nurses to develop a bond with the babies and their families. "The nurses really get to know the babies and their families and have the chance to celebrate a lot of firsts with them," says Dr. Soliman. The nurses also spend a lot of time with the parents, providing education and support, and teaching them how to care for their infants.

Support for Parents, Too
It's also helpful for parents of these tiny babies to meet and support each other. "Most of these babies are here for about three months," says Mindy Morris, M.S., R.N.C., C.N.N.P., a neonatal nurse practitioner. "It's hard for these families when they are in a regular NICU, watching other babies going home when their babies aren't." In this unit, parents of the smallest preemies can be with others who are going through the same kind of experience.

Throughout their stay in the unit, parents are welcome at their babies' bedside as often as they like. Parents are encouraged to provide skin-to-skin "kangaroo" care as soon as it's safe for the baby. Parents are also welcome to be on the unit during rounds, when the doctors visit with each baby and discuss his or her progress.

"It's a real family environment for these patients," says Morris. "It's less stimulating for the babies, and for the parents too, because there's not so much going on with other, larger babies—so it's a healthier environment for everyone."

For more information about the Small Baby Unit, please call 714-532-8579.