CHOC Children's Publications
Physician Connection


A Communication Service for Physicians from CHOC and CHOC at Mission. Please Note: Physician Connection is no longer being printed and is now available electronically. Please visit our blog at http://docs.chocchildrens.org for the latest articles for our physician community. You can also receive our electronic Physician Connection newsletter in your inbox by subscribing to our mailing list: http://www.choc.org/subscribe

---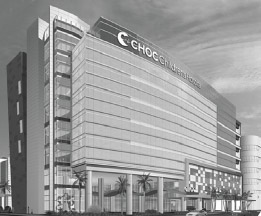 Tower Construction Proceeding On Schedule

"Orange County children and families deserve a world-class, pediatric-focused healthcare system. The new tower will meet our ongoing demand for services, help us achieve our goal of becoming a premier children's hospital, and, most importantly, allow us to provide state-of-the-art care to all children in a facility designed just for them and their families." - Debra Mathias, CHOC Executive Vice President and Chief Operating Officer
When completed, the new CHOC Children's seven-story tower will literally transform the Orange County skyline. It will be a highly visible symbol of our hospital's commitment to becoming increasingly recognized as one of the premier children's hospitals in the nation.
As fierce advocates for the well-being of children, CHOC is passionate about patient safety and quality. The latest automation and science have been incorporated into the design, so that CHOC may provide leading-edge care in the most technologically advanced facility.
Expanded Tertiary, Quaternary Pediatric Services
With the first phase opening in April 2013, the new patient tower will keep CHOC at the forefront of innovative tertiary and quaternary pediatric medicine. The new space will allow for the necessary expansion of heart, neuroscience, cancer and neonatology services.
Additionally, the new tower will be equipped with leading-edge technology to provide the following ancillary services:
Emergency department
Perioperative services
Cardiac catheterization and cardiology procedure rooms
Gastrointestinal/endoscopic procedure rooms
Laboratory
Pathology
Imaging
Radiology
Caring for our patients and their families is at the heart of all CHOC does. The new tower is designed to enhance family and patient support services, with teen and pre-teen activity rooms, classrooms, a reference library and a non-denominational chapel. Radio Lollipop and an expanded hospital gift shop will also relocate into the new tower.
By the time the first phase of construction is completed, the new tower will add 425, 524 square feet to the CHOC campus. This includes shelled space that will provide hospital and medical staff the necessary flexibility to accommodate the future needs of Orange County's growing pediatric population.
For more information, please call the CHOC Expansion Hotline at 714-532-8710 or Physician Relations Manager, Hannah Marcus, at 714-516-4224.
Symbolizing a New Era of Pediatric Care in Orange County
Designed to be modern and inviting, CHOC's new tower incorporates suggestions from physicians, staff, patients and families:
• Private patient rooms
• Open and colorful spaces
• Spacious, welcoming, family-friendly lobby
• A culturally sensitive environment
• Outdoor gardens and café
• Areas for work, study, play, reflection, meditation and prayer