CHOC Children's Publications
Physician Connection


A Communication Service for Physicians from CHOC and CHOC at Mission. Please Note: Physician Connection is no longer being printed and is now available electronically. Please visit our blog at http://docs.chocchildrens.org for the latest articles for our physician community. You can also receive our electronic Physician Connection newsletter in your inbox by subscribing to our mailing list: http://www.choc.org/subscribe

---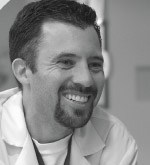 In the Spotlight: Jason Knight, M.D.

He believes all children deserve to receive world-class care at a children's hospital. And for many pediatric patients in Orange County and surrounding regions that care begins with the CHOC Children's Emergency Services Transport Team.
"Our transport team is truly an extension of CHOC and the ICU, and I take great pride in our teams' ability to assess, resuscitate and stabilize patients before they arrive at CHOC," said Jason Knight, M.D., medical director of the CHOC Transport Team. "Many of our respiratory therapists are now extended scope-providers and can perform endotracheal intubation without a physician present."
Under Dr. Knight's direction, the CHOC Transport team has become the second busiest pediatric transport team in the nation. During peak demand, three teams may be available at a moment's notice to pick up patients from 130 different hospitals throughout the state. The transport team also arranges long distance and out-of-state transports.
During fiscal year 2009, more than 4,307 patients were transported to CHOC — a 200 percent increase since 2003.
Fellowship-Trained At CHOC
Few can match Dr. Knight's knowledge of the elements that comprise a successful transport program. He gained valuable insight and experience during his pediatric critical care fellowship, a three-year, combined program through Harbor-UCLA and CHOC.
Dr. Knight joined the CHOC medical staff four years ago after completing his medical training. He is a graduate of the Eastern Virginia Medical School, in Norfolk, and completed his three-year pediatric residency, and one year as chief resident, at Harbor-UCLA.
On staff at several local hospitals, Dr. Knight regularly presents case conferences at CHOC Children's at Mission Hospital, Hoag Hospital, Presbyterian Intercommunity Hospital and Corona Regional Medical Center.
Additionally, he has contributed chapters on hypertensive emergencies and foreign body aspiration to Pediatric Hospital Medicine: Textbook of Inpatient Management, 2007. He belongs to the American Academy of Pediatrics, Society of Transport Medicine and Society of Critical Care.
Robotic Telemedicine
For over a year, Dr. Knight has used robotic telemedicine to remotely assess pediatric patients in the Hoag Hospital emergency room. He says both patients and their parents have readily embraced the robotic concept.
"The children think this technology is cool," Dr. Knight said. "When I introduce myself via the robot as a pediatric intensivist, it always puts the parents' minds at ease because from that point forward, CHOC is involved with their child's care."
To contact Dr. Knight, please call 714-532-8658.
OC Metro Says He's "Hot"
Congratulations to Jason Knight, M.D., for being selected as one of OC Metro's "Hot 25" honorees. The business lifestyle magazine, which receives hundreds of nominations from readers, makes its selections based on individual accomplishments, current projects, community standing — and "hot" factor. Read more about Dr. Knight in the November issue.