CHOC Children's Publications
Physician Connection


A Communication Service for Physicians from CHOC and CHOC at Mission. Please Note: Physician Connection is no longer being printed and is now available electronically. Please visit our blog at http://docs.chocchildrens.org for the latest articles for our physician community. You can also receive our electronic Physician Connection newsletter in your inbox by subscribing to our mailing list: http://www.choc.org/subscribe

---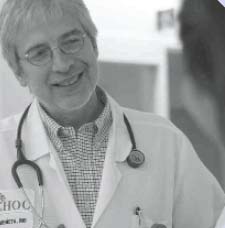 In the Spotlight: Antonio Arrieta, M.D.

"When I trained in infectious diseases, most of the infections we dealt with were community acquired infections. Nosocomial infections have become increasingly important in recent years, particularly in children with such underlying debilitating diseases as cancer, prematurity and cystic fibrosis." Antonio Arrieta, M.D., PSF Division Chief, Infectious Diseases and Medical Director, Infection Control
Antonio Arrieta, M.D., fully expected to return to his native Peru after completing an infectious diseases fellowship at UCI-Miller Children's Hospital in Long Beach. Then he learned about an opportunity to work with pediatric HIV patients at CHOC Children's.
Dr. Arrieta joined the CHOC staff in 1991, and helped develop Orange County's first and only CCS-certified pediatric HIV clinic. CHOC is still the only recognized center for the evaluation and treatment of children who are infected with or affected by HIV.
Currently, approximately 15 newborns exposed in-utero to HIV are referred into the program every year. In the last two years, only one has tested positive for the actual infection. A recent disturbing trend, though, has been the rising number of adolescents with sexually transmitted HIV.
"There has been a shift in the population we manage," Dr. Arrieta said. "Our team has had to rapidly adapt to treating adolescents."
An Outstanding Teacher
Dr. Arrieta helped develop the CHOC residency program, and continues to participate in the training of residents. For his role, Dr. Arrieta has been chosen "Teacher of the Year" several times, most recently in 2003. Medical students and residents come from different places around the country and abroad to spend a month training with CHOC's Infectious Diseases division.
"I don't think of teaching as a job because I enjoy it immensely," Dr. Arrieta says. "I have also tried to assimilate CHOC residents into research activities. Over the years, we have published about 15 posters in national and international meetings, including several at the most important infectious diseases conference in the United States: Interscience Conference on Antimicrobial Agents and Chemotherapy (ICAAC).
Dr. Arrieta and his associates, Jasjit Singh, M.D., Negar Ashouri, M.D. and Felice Adler-Shohet, M.D., expect to present data about Staphylococcus aureus blood stream infections in young children at this year's ICAAC meeting in San Francisco this fall. In June, Dr. Arrieta and Dr. Ashouri traveled to Brussels to present three posters at the European Society for Pediatric Infectious Diseases.
Dr. Arrieta and his team are available for consultation at CHOC Children's Orange and Mission Viejo campuses. For more information, please call (714) 532-7982.