CHOC Children's Publications
Kid's Health (Archive)


Our award-winning Kid's Health Magazine is designed to provide healthful information for your growing child. Please Note: Kid's Health Magazine is no longer being printed. Please visit our blog at http://www.choc.org/blog for the latest articles about your child's health from the experts at CHOC Children's. You can also receive our electronic Kid's Health newsletter in your inbox by subscribing to our mailing list: http://www.choc.org/subscribe

---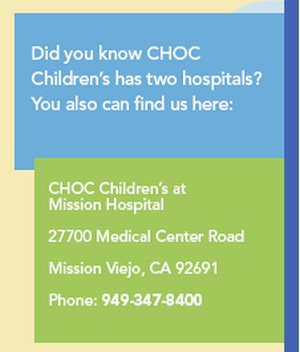 Community Education Classes

School programs
Programs can be brought to your school or group. To schedule a visit, please call 714-532-8887. Programs are FREE
Buckle Bear/Booster Bear (Grades Pre K–2)
Children will learn the safest way to ride in the vehicle through interaction with Buckle Bear.
Germbusters (Grades Pre K–6)
Children will learn the importance of proper hand washing and how easily germs are spread.
Healthy Habits (Grades K–6)
Children will learn the five basic food groups and the importance of eating balanced meals.
Heads Up for Helmet Safety (Grades K–6)
This class is an assembly format for students, teaching the importance of wearing a helmet
for all wheel-based sporting activities.
Body Image (Girls, Grades 6–12)
This presentation focuses on media's impact on the body image of adolescents.
Media Violence (Grades 6–12)
This presentation focuses on the amount of violence children are exposed to through media.
Media Literacy: Alcohol, Tobacco, and Other Drugs (Grades 6–12)
In this interactive class, teens will understand how alcohol and tobacco companies target their specific age group and the hidden messages behind their ads.
Safe Sitter Program
Held at both CHOC Orange and CHOC Mission. To register, call 714-532-8887.
Safe Sitter—Now in one day!
A seven-hour, nationally accredited child-care course for children ages 11 to 13. Students will learn how to care for infants through schoolage children.
Adult programs
Programs can be brought to your community group. To schedule a visit please call 714-532- 8887. Programs are FREE .
Home Safety Presentation
This program educates parents and caregivers about the dangers present in the home and how to prevent unintentional injuries.
Child Passenger Safety Classes
A certified child passenger safety technician will cover current California laws for restraining children in the car. Each type of seat will be reviewed (from infant seats to booster seats) to help parents/caregivers choose the appropriate seat for their child.
Well-Fed
This program will discuss how to make feeding time a positive, stress-free experience.
Media Violence: Parents
Learn what the violence portrayed in media is teaching young children and how to help your child distinguish between fantasy and reality.
Three Tragic Seconds: Drowning Prevention & Sun Safety
Learn action steps to prevent drowning, including using layers of barrier protection, designating water watchers, learning CPR and clearly communicating child supervision.
Parenting programs
Programs are held at various CHOC locations. To register for a class or series please call 714-532-8887. Some classes are also offered in Spanish. Call for current availability.
Active Communication: How to win cooperation with your child
Learn how to send clear and powerful messages to children and strengthen the parent-child relationship.
Effective Discipline: How to raise a responsible child
Learn proven nonviolent discipline techniques that will teach children responsibility and acceptable behavior.
Building Courage & Self-Esteem in Your Child
Learn how to strengthen your child's self-esteem so it produces more positive behaviors.
The Magic of Family Meetings
Learn how to instill qualities of character in your children that will enable them to make good decisions.
Parenting in the 21st Century
We will explore three types of leadership styles and how to apply the new techniques at home.
Sidestepping the Power Struggle
Develop better insight into how and why children behave as they do, learn how to apply methods and redirect them toward positive behavior.
What You Need to Know About Your 1 to 4 Year Old
Learn the stages of child development and how to enhance your child's learning at each stage.
Discipline and Beyond
Learn nonviolent discipline skills that really work, and how you can set rules that your toddler can understand and follow.
Building Better Behavior
Discover how the power of encouragement helps children learn positive behavior at an early age.
CPR for Family and Friends
This two-hour training is designed for those who wish to learn when to act and what to do in an emergency. It is not a replacement for workplace or credential programs, and does not teach the use of barrier devices. Those who successfully complete the course will be given a participation card, not a CPR credential.
Active Parenting Now! A Six-Week Series (For parents of children ages 5 to 12)
The Active Parenting Program will teach you a consistent model of parenting, enabling you to act with confidence and clarity as you encounter the many challenges parents face.
Cooperative Co-Parenting: A Six-Week Series
This series is for those who share parenting responsibilities, but do not live together and want to eliminate parental alienation and create cooperation between both parents.
1, 2, 3, 4, Parents!—A Three-Week Series (For parents of children ages 1 to 4)
Through this series learn basic developmental stages from ages 1 to 4, methods of bonding and nonviolent discipline skills.
Understanding Childhood Asthma
Families will learn how to manage their child's asthma at home and at school. Monthly classes, offered in English and Spanish, include instruction on asthma devices, types of medications, trigger control and preparing your child for school. To register for asthma classes call 714-289-4783 (English), or 714- 532-7577 (Spanish).
Did you know CHOC Children's has two hospitals? You also can find us here:
CHOC Children's at
Mission Hospital
277 00 Medical Center Road
Mission Viejo, CA 92 691
Phone: 949-347-8400