CHOC Children's Publications
Kid's Health (Archive)


Our award-winning Kid's Health Magazine is designed to provide healthful information for your growing child. Please Note: Kid's Health Magazine is no longer being printed. Please visit our blog at http://www.choc.org/blog for the latest articles about your child's health from the experts at CHOC Children's. You can also receive our electronic Kid's Health newsletter in your inbox by subscribing to our mailing list: http://www.choc.org/subscribe

---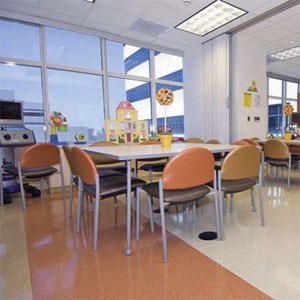 Adolescent Oncology Unit Opens

"Adolescence is such an important and healthy stage of life. For teens and young adults whose lives have been derailed by cancer, we are trying to recreate and provide an environment in which they can survive, gather strength and transition into adulthood." - Leonard Sender, M.D., Medical Director, CHOC Children's Cancer Institute
It's goodbye to jungle animals and pastel colors. The new Anaheim Ducks Wing on the CHOC Children's oncology unit is sporting a far more mature vibe.
The Anaheim Ducks Wing, which opened in March, gives teens a place to hang out. The hallway features life-size graphics of the Anaheim Ducks in action. The Teen Room, open to patients age 13 or older, has Anaheim Ducks memorabilia, a flat-screen television, and iPod docks. Posters of Justin Timberlake, Gwen Stefani, and other popular entertainers who have performed at the Honda Center adorn the walls. The Teen Room is part of the CHOC Children's Cancer Institute Adolescent and Young Adult (AYA) Program—one of the only programs of its kind in the nation—which provides innovative medical treatment and follow-up, access to aggressive protocols and clinical trials, and psychosocial services to help these patients address issues related to self image, relationships, mental health, fertility and more.
"The AYA program is about treating adolescents and young adults in the way they should really be treated," says Melanie Patterson, M.H.A., R.N., clinical director of the CHOC Children's Cancer Institute. "Our entire team is undergoing psychosocial training on AYA curriculum so we are better able to deal with teen issues and responsibilities as patients transition into adulthood."
The Anaheim Ducks Wing also features the following:
Playroom
School Room
Staff lounge and storage space
Family lounge
More To Come
Three AYA patient rooms with a total of six beds will open later this summer. Each room will feature individual TVs and PlayStations, in addition to the usual patient amenities. Also planned are a Hope Room and a large conference room for multidisciplinary treatment planning.
The Teen Room was made possible by generous sponsorship from the Anaheim Ducks. The new wing and oncology unit renovation also included the following sponsors: John McQuade, Weingart Foundation, Ralphs/Food 4 Less, Catherine Scrafield, OC Shoot for a Cure, Hugs from Shaun, Doris Covelli-Kreitz, Kenneth & Eileen Norris Foundation and Allen Charitable Lead Trust.