CHOC Children's Publications
Kid's Health (Archive)


Our award-winning Kid's Health Magazine is designed to provide healthful information for your growing child. Please Note: Kid's Health Magazine is no longer being printed. Please visit our blog at http://www.choc.org/blog for the latest articles about your child's health from the experts at CHOC Children's. You can also receive our electronic Kid's Health newsletter in your inbox by subscribing to our mailing list: http://www.choc.org/subscribe

---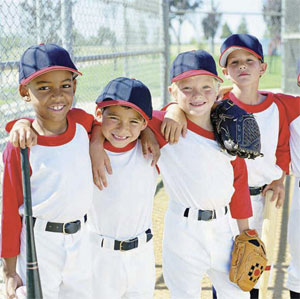 Caring for your Little Athlete
Keeping Your Little Athletes Safe
While sudden death in young athletes is rare, it is a concern for parents and health care professionals. If you have an active young person at home, here's what you should know.
Hidden Heart Problems
"Generally, when a young athlete dies on the field, an underlying heart problem is to blame," says CHOC Children's Heart Institute Medical Director Anthony Chang, M.D. Some of these problems include:
Hypertrophic cardiomyopathy (HCM), an abnormal thickening of the heart muscle
Long QT syndrome, in which the heart's electrical activity is abnormal
Coronary artery problems caused by birth defects
Heart rhythm disorders
Other inherited conditions
The most common cause of sudden death in athletes is HCM, Dr. Chang says. When the heart muscle becomes thick, it has to work harder. HCM often runs in families. Deaths from HCM usually occur in boys. Typically, most young athletes die during intense sports like football and basketball, which are also among the most popular activities. Another reason young athletes can die on the field is a sudden impact to the chest, Dr. Chang says.
Screening Before Sports
Doctors can uncover many heart problems through screenings before a child or teen enters competition, says CHOC Children's Medical Director of Electrophysiology Anjan Batra, M.D. These tests are called preparticipation screenings.
"Screenings can uncover heart defects that could lead to sudden death during competition," Dr. Batra says. "They may also help prevent a heart problem from getting worse."
The American Heart Association supports heart screenings like those offered at CHOC for student athletes. At CHOC, heart screenings are reviewed by pediatricians, pediatric cardiologists, and experts like Dr. Batra who can detect heart rhythm disorders in children. CHOC is home to a dedicated pediatric electrophysiology program.
"Preventing sudden death in school athletes is an important public health issue," Dr. Batra says. "That's why we're helping educate the community on these life-threatening conditions."
Warning Signs Parents Should Know
Certain symptoms can suggest that your child or teen has a heart problem that needs a doctor's attention. This is especially true if symptoms occur during sports or other activities.
During exercise, has your child:
Been dizzy or light-headed?
Passed out, or nearly passed out?
Had chest pain or pressure?
Felt like his heart was racing or skipping beats?
Talk with your doctor if your child experiences any of these symptoms, which may put your youngster at risk. Keep in mind that these signs do not necessarily mean that your child has a heart problem. For example, a child who faints during sports may have low blood sugar or other temporary problems. Chest pain during exercise could be a sign of asthma. A doctor can help find the cause.
Unfortunately, not all heart problems create symptoms that warn parents that something is wrong. "Sometimes, there are no warning signs," Dr. Chang says. "That's why screening is important."
Keeping Parents Informed
CHOC experts have formed a steering committee to help parents, schools and coaches prevent sudden deaths in student athletes, on and off the field.
The committee includes CHOC Children's Heart Institute Medical Director Anthony Chang, M.D., and Medical Director of Electrophysiology Anjan Batra, M.D.
"Our goal is to educate and guide policies to improve both education and knowledge of sudden death," Dr.
Chang says.
The group's recommendations include:
Better screening processes, such as electrocardiograms, for student athletes
Improved education, including CPR training, for all students and teachers
Resuscitation equipment, such as defibrillators, at sporting events
Anjan S. Batra, M.D., is the medical director of electrophysiology at the CHOC Children's Heart Institute. He has also been appointed assistant professor of clinical pediatrics in the School of Medicine at the University of California, Irvine. Dr. Batra is board certified with the American Board of Pediatrics with a sub-board in pediatric cardiology as well as being a testamur in the North American Society of Pacing and Electrophysiology (NASPE) Exam for cardiac pacing. He is interested in electrophysiology, specifically arrhythmia management and device implantation.
Anthony C. Chang, M.D., is medical director of the CHOC Children's Heart Institute and the chief of the PSF Division of Cardiology. Prior to joining CHOC, Dr. Chang was medical director of the pediatric cardiac intensive care service and chief of critical care cardiology at Texas Children's Hospital, and a tenured associate professor in pediatrics at the Baylor College of Medicine. In 2003, Dr. Chang received the presidential citation award from the Society of Critical Care Medicine.
Getting Your Child Screened
A sports physical can help protect your child's safety and health. During the physical, the doctor will check your child's blood pressure, heart rate and rhythm.
Talk with the doctor about your child's family history of heart problems. Be sure to mention any heart problems or sudden death before age 50. Also, tell your child's doctor if your child has had high blood pressure or a heart murmur.
Doctors can perform other tests to uncover "hidden" heart conditions, says Dr. Batra. These tests may help find problems that would not be detected during a normal checkup.
A screening electrocardiogram (EKG) can diagnose problems like hypertrophic cardiomyopathy (HCM) that can put a child at risk. An EKG is a painless test that records the heart's electrical activity to measure how it works.
An echocardiogram (ECG) is another option, although it is more costly. Also pain free, this test uses sound waves that create "pictures" of the heart.
"With a heart problem such as HCM, a child or teen may need to limit strenuous exercise," Dr. Batra says. "Other treatments, such as medicine, may help a young person stay somewhat active."