CHOC Children's Publications
CHOC Children's Annual Report


Everyone in Orange County is somehow connected to CHOC Children's. If it's not your own children that have been treated by our team of pediatric experts, chances are you know a few that have. Among friends, neighbors, coworkers, even people we encounter in our daily travels—CHOC is a common bond we all share. In this report, you will learn about some of our finest moments.

---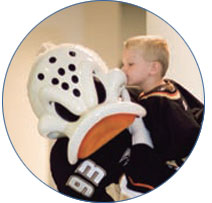 Anaheim Ducks and CHOC Team Up for Children

For many years, the Anaheim Ducks have supported CHOC, with players and management visiting patients, delivering special Ducks merchandise and even enjoying friendly games of air hockey in the hospital playrooms. In 2006, the club took it a step further, naming CHOC the "official hospital of the Honda Center and Anaheim Ducks."
For CHOC patients, the perks of this partnership have been tremendous. Not only do Ducks players continue to visit patients in the hospital (once even bringing along the Stanley Cup), patients have had the incredible opportunity to watch players during practice, which is closed to the general public. And during CHOC Night at Honda Center several patients took center-stage and even got a special ride on the Zamboni.
The Anaheim Ducks support for CHOC only continues to grow. The organization recently pledged $250,000 to develop a Ducks-themed teen room on the oncology floor and they're well on their way to fulfilling their promise.
This spring, the Ducks raised over $120,000 at the inaugural 2008 Anaheim Ducks Wives and Significant Others Fashion Luncheon. The sold-out event was attended by over 250 guests including players, coaches and the club's executive management team and included a fashion show and live and silent auctions.
"The new teen room is a wonderful announcement for our partnership with CHOC," says Susan Samueli, Anaheim Ducks owner. "It will symbolize our common goals to support children and families, while facilitating positive change in our community."
Event Chair Caroline Marchant, wife of Ducks center Todd Marchant, expects this successful event to become an annual addition to the Ducks community calendar.
"We are so grateful to the Anaheim Ducks," says Jan Lansing, CHOC's vice president of marketing and communications.
"We have a wonderful partnership that truly enhances the hospital experience for our patients, while allowing us to extend our reach into the community as part of our mission to nurture, advance and protect the health and well being of children."