CHOC Children's Publications
CHOC Children's Annual Report


Everyone in Orange County is somehow connected to CHOC Children's. If it's not your own children that have been treated by our team of pediatric experts, chances are you know a few that have. Among friends, neighbors, coworkers, even people we encounter in our daily travels—CHOC is a common bond we all share. In this report, you will learn about some of our finest moments.

---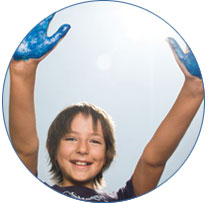 Hyundai Raises Awareness for Pediatric Cancer Research

At CHOC, we're proud to have an unwavering commitment to furthering research in pediatric cancer and an incredible team of scientists and clinicians ensuring that the latest clinical trials and treatments are readily available to our patients. And thanks to generous donations from partners like Hyundai Motor America, CHOC and other children's hospitals across the nation can continue to make progress in the fight against cancer.
For the last 10 years, Hyundai and its dealers have been raising funds to support this cause. In 2004, Hyundai launched its Hope on Wheels program—a united effort of nearly 800 Hyundai dealers across the country to raise awareness about pediatric cancer and celebrate the lives of children battling the disease. To date, the program has donated over $10 million to children's hospitals and has collected the colorful painted handprints of hundreds of young cancer survivors on a white Hyundai Santa Fe that travels around the country with the Hope on Wheels tour. The Hope On Wheels Medical Advisory Board is made up of leaders in cancer research treatment, including Leonard Sender, MD, medical director of the CHOC Cancer Institute.
Recently, Hyundai announced the launch of the Hyundai Scholars Pediatric Cancer Fellowship Program at CHOC. The program is intended to fund research positions at top pediatric cancer centers nationwide, and Dr. Sender was presented with a check for $150,000 to further research in pediatric oncology. Hyundai hopes to raise over $10 million in the next five years for pediatric cancer research.
"We appreciate the commitment that Hyundai and its dealers have shown in supporting the research that will allow us to discover better treatments and ultimately a cure," says Dr. Sender. "Corporate and public support of our efforts is vital in reaching our goals and helping every child win the battle against cancer. Hyundai has set a tremendous example by their leadership in funding pediatric cancer research through the Hope on Wheels and Hyundai Scholars programs."
Meet Sammy
To commemorate its 10th anniversary of funding pediatric cancer research, Hyundai and its dealers searched the country to find a special National Youth Ambassador to represent the spirit of Hope on Wheels. We are proud of 10-year old CHOC patient Sammy Heim, who was selected to fill this exciting position.
Two years ago, Sammy was diagnosed with Rhabdomyosarcoma, the most common form of soft tissue tumor found in children. Less than a year later, with the support of her CHOC care team, her family, church and friends, Sammy finished her chemotherapy and proton therapy treatments and was pronounced to be in remission. But while Sammy gets back to enjoying "normal life," she hasn't forgotten CHOC and those who helped her along the way.
"I know I can make a difference by visiting cancer children in the hospital," Sammy said. "When I was in the hospital, visitors made me feel good. I also donate toys and money to the hospital to make the children feel happier." By serving as the National Youth Ambassador for Hyundai Hope on Wheels, Sammy is doing just that.