CHOC Children's Publications
Physician Connection


A Communication Service for Physicians from CHOC and CHOC at Mission. Please Note: Physician Connection is no longer being printed and is now available electronically. Please visit our blog at http://docs.chocchildrens.org for the latest articles for our physician community. You can also receive our electronic Physician Connection newsletter in your inbox by subscribing to our mailing list: http://www.choc.org/subscribe

---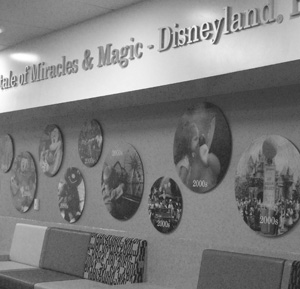 Technologically Enhanced Ambulatory Care Center Opens

Featuring 85 rooms equipped with state-of-the-art technology, including a radiology suite, the new CHOC Ambulatory Care Center has opened on the first floor of CHOC West. The center offers primary care and 23 different pediatric subspecialty clinics.
CHOC has added a surgery clinic for patients requiring specialized post-operative, outpatient care. Also new are two dental chairs provided through Healthy Smiles of Orange County, in collaboration with the University of Southern California dental residency program.
Sophisticated Patient Tracking, Decreased Wait Times
Coordinating 85 patient rooms may sound challenging, but CHOC has it down to a science. The Ambulatory Care Center is using an application of the hospital's clinical documentation system to electronically manage patient scheduling, registration and tracking.
Self-service, check-in kiosks have already decreased the average registration time from 12 to three minutes. And once patients check in, they are continually monitored by an electronic patient locator system. Physicians and staff always know where patients are — and how long they have been waiting.
"One of our goals is to provide a family-centered environment," says Kathy Kolodge, executive director of CHOC Ambulatory Care Services. "We want families to have pleasant experiences and for their visits to go as quickly as possible."
CHOC Clinics on the Move
Several CHOC specialty clinics have relocated to the Ambulatory Care Center.
Allergy
Early Development and Assessment Center (EDAC)
Hematology
Infectious Diseases
Metabolic
Pulmonary
The CHOC Ambulatory Care Center is located at 455 S. Main St., in Orange. For more information, please call (714) 289-4196.