CHOC Children's Publications
Kid's Health (Archive)


Our award-winning Kid's Health Magazine is designed to provide healthful information for your growing child. Please Note: Kid's Health Magazine is no longer being printed. Please visit our blog at http://www.choc.org/blog for the latest articles about your child's health from the experts at CHOC Children's. You can also receive our electronic Kid's Health newsletter in your inbox by subscribing to our mailing list: http://www.choc.org/subscribe

---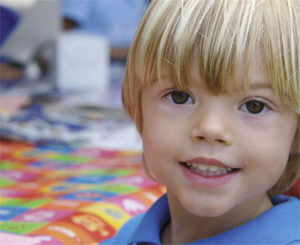 Spotlight on Epilepsy

CHOC Clinical Educator Coordinator Debbie Jones, R.N., M.N., is equipping Orange County school nurses with the information and tools to help students with epilepsy succeed. In October, 100 nurses attended "Managing Students With Seizures," a CHOC and Epilepsy Foundation co-sponsored program to help school nurses better understand seizure disorders, treatment, and the impact on learning and behavior.
Jones points out that not all forms of epilepsy are immediately noticeable. During "absence seizures," a child is simply unaware for usually less than 10 seconds at a time. Experiencing numerous seizures over the course of the school day severely impacts attention and learning.
"There is such a stigma associated with seizures, but the more information people have, the more comfortable they will feel," Jones says. "Our goal is to make sure our patients receive the support they need at school in order to improve their overall quality of life."
For more information about epilepsy or upcoming educational programs, contact CHOC Clinical Educator Coordinator Debbie Jones, R.N., at (714) 516-4353.
Comprehensive Epilepsy Program, part of the CHOC Neuroscience Institute
CHOC and UCI are collaborating to develop a regional center for the research and treatment of seizure disorders. Under the medical direction of Ira Lott, M.D., the program will include a research and teaching component based at UCI. All patient services and treatment will take place at CHOC:
State-of-the-art assessment, neurodiagnostic evaluation and monitoring
Leading-edge treatment and medical management, including surgical intervention
"In addition to caring for children with routine seizure disorders, we will become a center for children who have intractable epilepsy," Dr. Lott says.
Pediatric Epileptologist Joins CHOC
A pediatric epileptologist with advanced fellowship training in neurology and neurophysiology recently joined the CHOC staff. Leigh Ramos-Platt, M.D., provides advanced care for pediatric epilepsy and other children's neuromuscular disorders.
Dr. Ramos-Platt is boardcertified in general pediatrics and neurology with special qualification in child neurology. Additionally, she is board-admissible in clinical neurophysiology.
Pediatric Neurology Fellowship: Medical College of Wisconsin
Clinical Neurophysiology Fellowship: Medical College of Wisconsin
Pediatric Residency: Loma Linda University
Medical School: University of Hawaii, John A. Burns School of Medicine
Undergraduate: University of Michigan
If Your Child Has A Seizure
Don't panic or attempt to restrain your child.
Note the time when the seizure starts.
Keep your child away from hazards or dangerous objects.
If your child is having a convulsive seizure, turn him on his side and cushion his head.
Remove glasses and loosen tight clothing.
Do not put anything in your child's mouth, including liquid or medication.
If it is your child's first seizure, call 911. If your child has a known seizure disorder, follow your health care provider's guidelines.