CHOC Children's Publications
Physician Connection


A Communication Service for Physicians from CHOC and CHOC at Mission. Please Note: Physician Connection is no longer being printed and is now available electronically. Please visit our blog at http://docs.chocchildrens.org for the latest articles for our physician community. You can also receive our electronic Physician Connection newsletter in your inbox by subscribing to our mailing list: http://www.choc.org/subscribe

---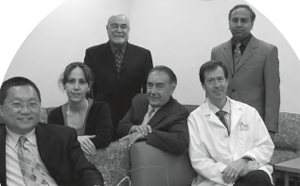 Pediatric Surgical Associates

All Pediatric Surgical Associates surgeons are boarded in both general surgery and pediatric surgery. Additionally, Dr. German and Dr. Kabeer are board-certified in surgical critical care.
John German, M.D., F.A.C.S.
For more than 35 years, Dr. German has taken a leadership role in shaping pediatric surgery in Orange County. He received his medical training at the University of California, Irvine, and returned as an assistant professor in 1975. He helped develop neonatal ECMO support and NEC care by developing staging criteria for surgery.
In 1982, Dr. German participated in the CHOC ECMO program. He began pioneering minimally invasive surgeries at CHOC in 1994.
In full-time practice since 1982, Dr. German has served on multiple committees of national societies, including the American Pediatric Surgery Association. He served on the board of governors for the American College of Surgeons for six years. Additionally, he has been active in the Southern California Chapter of the American College of Surgeons, where he has held every office including president.
Fellowships:
Children's Hospital Los Angeles Great Ormond Street Hospital for Children, London
Maryam Gholizadeh, M.D.
Dr. Gholizadeh specializes in all areas of pediatric surgery, with a special interest in surgical oncology. As an attending pediatric surgeon at Memorial Sloan Kettering Cancer Center, in Manhattan, she co-authored papers on neuro-blastoma and osteo-sarcoma. She is section chief of the CHOC Department of Surgery.
Surgical Interests:
Oncology • Laparoscopy
Fellowship:
Children's National Medical Center
David Gibbs, M.D., F.A.C.S., F.A.A.P.
Dr. Gibbs performs the full spectrum of pediatric surgery. He has additional training in fetal surgery and pediatric anorectal malformations. He is an OCMA Physician of Excellence, and serves as chair of Surgery at CHOC at Mission.
Surgical Interests:
• Minimally invasive surgery • Laparoscopic hernia repair • Pediatric anorectal malformations • Prenatal surgical counseling
Fellowship:
Hospital for Sick Children, Toronto
Mustafa Kabeer, M.D., F.A.C.S., F.A.A.P.
Dr. Kabeer performed the first robotic surgery at CHOC in 2003. Additionally, he performed the world's first robotic pediatric lung resection and has performed many robotic tumor resections. Dr. Kabeer's research interests include immunology, Raman spectroscopy and cytokine response to injury. He serves on the CHOC Board of Directors.
Surgical Interests:
• Hernia repair • Congenital malformations • Chest (wall deformities • Thoracic and Oncologic Surgery
Fellowships:
(Two) Children's Hospital of Michigan
Ali Kavianian, M.D., F.A.C.S.
Dr. Kavianian brings to the group 42 years of experience of active practice in pediatric surgery, during which he has performed more than 22,000 surgeries. He initially practiced in Iran, from 1966 to 1982, where he introduced pediatric surgery as a new specialty. Dr. Kavianian has been practicing in Orange County since 1982.
Surgical Interests:
• Esophageal reconstruction • Gastro-intestinal anomalies
Fellowship:
Children's Hospital of Philadelphia
Vinh Thuy Lam, M.D., F.A.C.S., F.A.A.P.
Dr. Lam trained at Harvard and was co-surgeon during the first robotic surgery at CHOC in 2003. He is experienced in minimally invasive techniques. Currently the chief of staff for CHOC at Mission, he has received Physician of Excellence Awards from OCMA for the past two years.
Surgical Interests:
• Robotic and minimally invasive surgery • Thoracic surgery, including tracheoesophageal fistula • Congenital diaphragmatic hernia repair • Perinatal consults • Neonatal anamolies
Fellowship:
Children's Memorial Hospital, Chicago