CHOC Children's Publications
Physician Connection


A Communication Service for Physicians from CHOC and CHOC at Mission. Please Note: Physician Connection is no longer being printed and is now available electronically. Please visit our blog at http://docs.chocchildrens.org for the latest articles for our physician community. You can also receive our electronic Physician Connection newsletter in your inbox by subscribing to our mailing list: http://www.choc.org/subscribe

---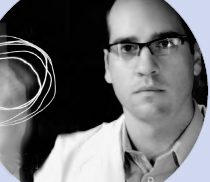 CHOC Scientist Exploring Light's Possibilities For Children

A biomedical scientist at CHOC is collaborating with several physicians to explore medical applications of light to provide non invasive diagnoses. Chad Lieber, Ph.D., is leading the CHOC Biomedical Optics Lab, the newest translational research center in The CHOC Research Institute and the first known laboratory of its sort to focus solely on pediatric applications. Since joining the CHOC staff about 18 months ago, Dr. Lieber has been developing specialized equipment utilizing optical phenomena, as well as finding new applications for existing technology.
Non-Invasive Diagnosis of Pediatric Tumors
Raman spectroscopy is an optical technique that utilizes faint reflections of light to detect molecular structure. While several studies have shown Raman spectroscopy to be a potential non-invasive diagnostic tool in adults, its use in children has been limited. Dr. Lieber is working with CHOC surgeon Mustafa Kabeer, M.D., to develop an intraoperative optical device that will use Raman spectroscopy to distinguish between various normal, benign and malignant tissues.
By allowing surgeons to instantly, non-invasively determine the pathological status of tissue, this technology could minimize the risk of biopsy related cancer spill, help preserve healthy tissue, and potentially reduce cancer recurrence after surgery. Dr. Lieber presented preliminary results of this work last September at the 2007 Annual CHOC Research Symposium and is currently preparing the fifirst manuscript detailing their results to date from this ongoing study.
A Potential Alternative to MRI To Diagnose bleeding Disorders
Dr. Lieber is also collaborating with CHOC hematologists Diane Nugent, M.D., and Amit Soni, M.D., to assess whether optical technology may be used to non-invasively diagnose joint effusions in children with bleeding disorders. He has built a hand-held device that obtains information from below the tissue surface, providing optical signatures that may potentially be used for diagnosis. Early results are promising, and the device may ultimately provide a low-cost alternative to MRI, currently the only non-invasive diagnostic tool for hemarthritic effusion. Dr. Lieber says this work could be the first step towards the development of a home diagnostic kit for children with these disorders.
New uses For Existing Technology
Additionally, Dr. Lieber is working on clinical studies to evaluate existing near infrared spectroscopy (NIRS) cerebral oximetry devices. CHOC was an early adopter of this technology which passes light through the forehead to quantify blood oxygenation in the brain. Dr. Lieber is working with CHOC pediatric cardiologist Anthony Chang, M.D., to determine whether NIRS sensor placement in other anatomical regions may be used to further assist clinical decision-making. He is also working with CHOC neonatologists John Cleary, M.D., and Vijay Dhar, M.D., to determine whether certain diseases in premature infants may also be detectable using this technology.
Dr. Lieber says he appreciates the way hospital physicians have welcomed the opportunity to conduct research studies with him. This collaborative spirit will ultimately put basic science technology into clinical use more quickly.
"It's a low-risk, high-reward situation— for CHOC and for all the physicians and patients involved," Dr. Lieber says. "The technology is there, so we are looking to find as many uses for it as possible."
Prior to joining the CHOC Research Institute, Dr. Lieber was a senior scientist at Johnson & Johnson's/Biosense Webster, in Diamond Bar. He obtained his undergraduate and graduate education in biomedical engineering at Vanderbilt University, in Tennessee. He completed a postdoctoral fellowship, in biophotonics, at the University of California, Davis. Dr. Lieber also holds an adjunct position at the Beckman Laser Institute, at the University of California, Irvine.
Dr. Lieber has published several articles on the use of various optical techniques to non-invasively diagnose disease. These studies, which show how the technology clearly differentiates between various pathologic tissues, appear in several international technical journals.
For more information, please contact Dr. Lieber in the CHOC Biomedical Optics Lab, at (714) 516-4257.