CHOC Children's Publications
Physician Connection


A Communication Service for Physicians from CHOC and CHOC at Mission. Please Note: Physician Connection is no longer being printed and is now available electronically. Please visit our blog at http://docs.chocchildrens.org for the latest articles for our physician community. You can also receive our electronic Physician Connection newsletter in your inbox by subscribing to our mailing list: http://www.choc.org/subscribe

---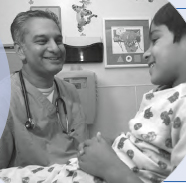 In The Spotlight: Ameer Mody, M.D., CHOC Emergency Room, Clinical Director

Ameer Mody, M M.D., clinical director of CHOC Emergency Services, is the first former CHOC resident to complete a fellowship in pediatric emergency medicine.
After the first week of his CHOC PICU rotation, Ameer Mody's mind was made up. The fourth-year medical student was highly impressed with CHOC intensivists Nick Anas, M.D., Paul Lubinsky, M.D., and James Cappon, M.D. As he returned to Albany Medical College to finish his medical training, he was already planning to come back.
His experiences at CHOC were clearly a preview of the future. Not only did Dr. Mody match with CHOC for residency training, he served an additional year as chief resident. Even when he left to complete a three-year pediatric emergency medicine fellowship at Loma Linda University, he stayed in touch. He worked with the CHOC transport team and rounded as a CHOC hospitalist.
When Dr. Mody returned to CHOC for the third time, he was here to stay. Today, he serves as clinical director of CHOC Emergency Services. He also has the distinction of being the first CHOC resident to complete a pediatric emergency medicine fellowship.
"As a former resident, I feel I have a unique perspective when it comes to the many aspects of CHOC," says Dr. Mody, who is board-certified in pediatrics and pediatric emergency medicine. "I have worked on the inpatient side and in the clinic, as well as with the transport team and emergency department."
Dr. Mody describes emergency room care as a mix of general pediatrics and critical care. Although he is devoted to caring for very sick children, Dr. Mody also likes the general pediatrics aspects, especially the opportunity to educate families. In addition to his medical training, Dr. Mody has a master's degree in public health from George Washington University, in Washington, D.C.
Life Comes Full Circle
Dr. Mody grew up in Irvine, where he and his wife are now raising their own three children. He says the flexibility of his schedule has given him time to be involved with his children's lives. This flexibility has also given him the opportunity to pursue charitable interests. Dr. Mody is involved with Global Healing, a U.S.-based, non-profit organization dedicated to bringing modern medicine to the developing world. Last year, Dr. Mody traveled to Roatan, an island off Honduras, and spent three weeks teaching emergency pediatric medicine to nurses and physicians at the only hospital.
"It was very humbling to see what the physicians there were able to accomplish without the use of technology," he says. "I went there to teach, but I ended up learning about what they were able to do with their limited access to technology. I definitely got a stronger appreciation for what it means to be a physician."
At CHOC, of course, Dr. Mody has an excellent staff plus the luxury of computerized medical records. He says the technology has made a tremendous impact on patient care because of the immediate access to previous diagnoses, medications, reports, X-rays, labs and surgeries. And Dr. Mody is still as enthusiastic about CHOC, as he was when he was a fourth-year medical student.
"I love this hospital," Dr. Mody says. "I was very fortunate to get to come back here."