CHOC Children's Publications
Kid's Health (Archive)


Our award-winning Kid's Health Magazine is designed to provide healthful information for your growing child. Please Note: Kid's Health Magazine is no longer being printed. Please visit our blog at http://www.choc.org/blog for the latest articles about your child's health from the experts at CHOC Children's. You can also receive our electronic Kid's Health newsletter in your inbox by subscribing to our mailing list: http://www.choc.org/subscribe

---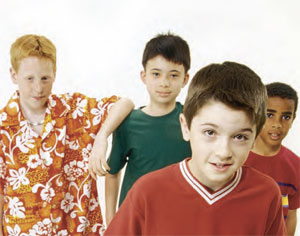 Get Tough With Cyberbullies

Online bullies have a distinct advantage over the playground variety. They can choose to remain anonymous, and there are usually no witnesses to report them. As a result, they are often more vicious in their verbal attacks.
And you may not even know your child is being bullied.
CHOC psychologist Heather Huszti, Ph.D., cautions parents to watch for warning signs: depression, anxiety, irritability, withdrawal, slipping grades, and changes in eating or sleeping habits. Another red flag: friends who are suddenly out of the picture.
Pre-adolescent girls are especially at risk.
"There is a lot of viciousness that goes on, particularly with 'tween girls," Dr. Huszti says. "Kids and young teens feel so vulnerable at that age. They haven't learned the coping skills yet to shrug off hurtful comments."
Victims Don't Always Speak Out
Dr. Huszti says there are two main reasons why a bullied child may not speak out. First, victims often feel ashamed, as if they have done something wrong. Also, children may not to tell parents about cyberbullying for fear of losing computer privileges.
She advises parents to bring up the subject. Talk about cyberbullying as part of an ongoing discussion about Internet safety. Ask your child if someone is bullying her online. Word your questions carefully — ask what her "friends" are doing.
"Whether you're talking about the risk of suicide, drugs, grades or risky behavior, the more parents and teens talk, generally the more protective that seems to be," Dr. Huszti advises. "Explain that bullies don't feel good about themselves, and that is why they bully others. Then enhance your daughter's self esteem by pointing out everything your daughter does well. The better your daughter feels about herself, the less bullies will be able to tear her down."
For more information, or if you have concerns about your child's emotional well-being, please contact CHOC Psychology at (714) 532-8481.
Is Your Kid A Bully?
Find out why. Maybe your child is being teased or bullied, too. "There can be serious long-term side effects both from bullying and being bullied," Dr. Huszti says. Talk to your child, and ask how he or she would feel in the other person's shoes.
If You Suspect A Problem
Always keep the computer out in the open, not in your child's room. Monitor where your daughter goes, and what she does, online. If your child has a page on MySpace or Facebook, ask her to show it to you. You may also search those sites under your child's name.
If your child is being bullied, immediately print out and document what has been posted.
Other protective steps:
Restrict your child's computer access.
Block the bullies' screen names and email addresses.
Get your child a new screen name, email address and password.
Have your child's pages shut down.
Have your child's friends come to your home, instead of having her go to other friends' homes.
Talk to the parent of the bully.
Inform the school.
Consider involving law enforcement.