CHOC Children's Publications
Kid's Health (Archive)


Our award-winning Kid's Health Magazine is designed to provide healthful information for your growing child. Please Note: Kid's Health Magazine is no longer being printed. Please visit our blog at http://www.choc.org/blog for the latest articles about your child's health from the experts at CHOC Children's. You can also receive our electronic Kid's Health newsletter in your inbox by subscribing to our mailing list: http://www.choc.org/subscribe

---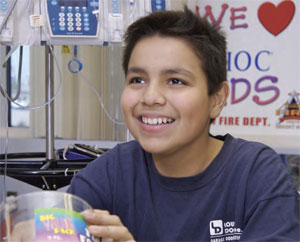 Better Planning for Life After Cancer

Thirty years ago, only 10 to 20 percent of children with cancer, all types combined, survived. Today, about 80 percent of all pediatric cancers are curable.
While tremendous progress has been made in treating childhood cancer, CHOC pediatric oncologist Leonard Sender, M.D., is not satisfied. Not even close. The fact that more children are surviving into adulthood has opened up new questions about survivorship.
"As more and more children are becoming survivors, the less we realize we know about the potential long-term consequences of the medical treatments that got them there," Dr. Sender says. "We want to give survivors of childhood or adolescent cancer the best chance to live as normal a life as possible. We want them to be able to fully partake in society and give back to the community."
Bridging The Gap In Care
Dr. Sender brings unparalleled insight to the issue. As medical director of The CHOC
Cancer Institute and director of the Young Adult Cancer Program at the University of California, Irvine, he sees where there are potential gaps in care.
In the healthcare system, children are typically considered "adults" upon reaching age 18. Yet cancer recognizes no such boundaries. As survivors of childhood cancer transition to adulthood, they can easily slip through the cracks.
The Adolescent and Young Adult (AYA) program at The CHOC Cancer Institute bridges the transition by addressing both medical and quality-of-life issues in patients ages 15 to 30:
Long-term effects of cancer treatment
Appearance, sexuality, relationships and family planning
Education, jobs and careers
Financial concerns, including health insurance
"There are hundreds of childhood cancer survivors in this country. Too many of them grow out of a children's hospital and are left to their own devices," Dr. Sender says. "This is a unique group of survivors. We need to look at them in a special way that maximizes their chances for cure, and their ability to be functional and meaningful survivors of cancer."
For more information about The CHOC Cancer Institute, please call (800) 329-2900.
CHOC & UCI Bring Survivors Together
For more than 220 patients, families, friends and staff, April 12 was an evening to relax and have fun at Dave & Buster's, at The Block at Orange. The Adolescent and Young Adults with Cancer Event, "It Can't Own Me," co-sponsored by CHOC and UCI, gave young cancer patients the opportunity to meet with older survivors.
"We wanted our younger patients to realize there will be a medical home for them as they transition to adulthood," Dr. Sender said. "They will not be abandoned once they become adults."