CHOC Children's Publications
Kid's Health (Archive)


Our award-winning Kid's Health Magazine is designed to provide healthful information for your growing child. Please Note: Kid's Health Magazine is no longer being printed. Please visit our blog at http://www.choc.org/blog for the latest articles about your child's health from the experts at CHOC Children's. You can also receive our electronic Kid's Health newsletter in your inbox by subscribing to our mailing list: http://www.choc.org/subscribe

---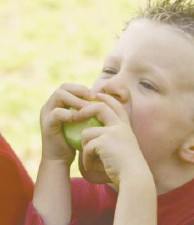 Snack Makers Target Your Children

Those brightly colored, sugary cereals, snacks and candies may not look particularly appealing to you, but that's not the point. You are not the target market: your kids are.
Nutritional marketers are very effective at what they do. Your kids see an advertisement for an enticing snack, and pretty soon they want it, too. It's tough for parents, and CHOC pediatrician Maureen Downes, M.D., the mother of three grown children, sympathizes completely.
"Be the parent and guide your child to healthier choices," Dr. Downes advises. "It's not just the sugar parents have to watch out for. Food manufacturers use food dyes as an attraction, and many people are sensitive to them." Dr. Downes recalls treating a young patient with what appeared to be alarming gastrointestinal symptoms. Fortunately, the problem turned out to be red dye from a popular snack food.
Dr. Downes is also concerned about pretzels, crackers and popcorn. She says the salt in these products actually stimulate appetite, making children want more. So parents must keep an eye on portion size.
"A child's portion is much smaller than that of an adult. One serving should be about the size of your child's first," she says. "Also, don't make your child finish everything on her plate. Teach your child to listen to her body, so she develops a healthy sense of satiety."
A Healthier Way To Snack
Instead of: Soda or juice, try: Water with a squirt of fruit juice
Instead of: Granola or energy bars, try: Fruit slices, vegetables or string cheese
Instead of: Cookies, chips or candy, try: 100-calorie portions of your kid's favorite snacks. Serve fruit as dessert.