CHOC Children's Publications
Kid's Health (Archive)


Our award-winning Kid's Health Magazine is designed to provide healthful information for your growing child. Please Note: Kid's Health Magazine is no longer being printed. Please visit our blog at http://www.choc.org/blog for the latest articles about your child's health from the experts at CHOC Children's. You can also receive our electronic Kid's Health newsletter in your inbox by subscribing to our mailing list: http://www.choc.org/subscribe

---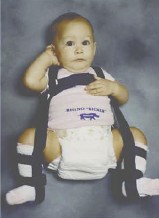 Early Treatment Avoids Hip Surgery Later On

Your pediatrician screened for it at birth, and will keep checking for it during your baby's first year. Developmental dysplasia of the hip (DDH) is a developmental condition that occurs when the femoral head, the ball-shaped end of the thigh bone, does not fit securely within the hip socket.
DDH occurs in one of every 1,000 live births, and in 25 percent of breech births. But the dislocation is not always immediately apparent, and that is why pediatricians screen for it at well-child checkups.
"It's like the tires on your car. If they are not aligned properly, you won't be getting 60,000 miles out of them," says CHOC pediatric orthopaedic specialist François Lalonde, M.D. "Without adequate treatment in childhood, DDH leads to complications in later life. This is especially true for women who may begin experiencing osteoarthritis in their late 30s or early 40s as a result."
Short-Term Bracing Is Very Effective
Depending on the baby's age, an ultrasound or X-ray will be ordered to confirm the diagnosis. Treatment begins with full-time use of a Pavlik harness. Worn for a variable portion of the day, depending on the severity of the condition, this soft harness is very baby-friendly and allows full freedom of movement. It doesn't have to be taken off for diaper changes, either.
After three months, the hip is re-evaluated. If it has stabilized, weaning begins. This process requires the harness to be worn less and less as the hip condition improves. Eventually the harness is only worn at night. Weaning usually lasts for about three to six months, or until the hip socket shape is optimal.
"We know that parents don't want to see their baby in a harness, so we only prescribe it if absolutely necessary. But by age 4 or 5, the hip socket stops developing. After that, if the hip socket remains too steep, surgical correction may be required," Dr. Lalonde says. "The earlier we catch DDH, the more likely that bracing will be all that's needed."
The CHOC Infant and Adolescent Hip Program
Staffed by Orange County's only pediatric orthopaedic specialists, the CHOC Hip Program is available at both CHOC and CHOC at Mission. Services include evaluation, onsite ultrasound and X-ray, monitoring and treatment. To learn more about the CHOC Infant and Adolescent Hip Disorder Program, please call the CHOC Orthopaedic Institute at (800) 329-2900 or visit www.CHOC.org.
DDH Risk factors
First born
Girls are at six times greater risk
Family history on the mother's side
Breech presentation at birth
Torticollis — bending of the neck to one side
Symptoms to discuss with your pediatrician
Legs are different lengths
Uneven skin folds on the thighs or buttocks
Less mobility or flexibility of one or both hips
Limping, tow walking or "waddling" in children who have just begun to walk
Painless limp or uneven walk pattern that persists once child learns to walk
Clicking sounds in the hip