CHOC Children's Publications
Kid's Health (Archive)


Our award-winning Kid's Health Magazine is designed to provide healthful information for your growing child. Please Note: Kid's Health Magazine is no longer being printed. Please visit our blog at http://www.choc.org/blog for the latest articles about your child's health from the experts at CHOC Children's. You can also receive our electronic Kid's Health newsletter in your inbox by subscribing to our mailing list: http://www.choc.org/subscribe

---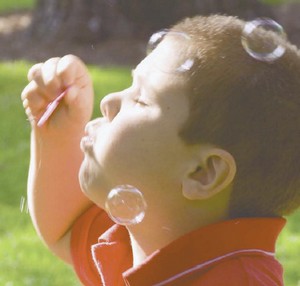 Asthma Needs An Action Plan

"Asthma is a shifting disease, and each patient should have a written 'action plan' outlining the steps to take under various circumstances. Parents need to know how much medicine it takes to achieve control," says CHOC pediatric allergist Stanley Galant, M.D. "In the action plan, a child experiencing good control would be directed to continue to taking 'controller' medication to prevent symptoms and to maintain control. However, at the first sign of trouble, the plan would instruct parents to give their child 'rescue' medications. If that did not remedy the situation or if symptoms continued to worsen, the plan would instruct parents to call the doctor."
Because allergy and asthma go hand-in-hand, the educational program should also include steps to minimize exposure to known allergens or irritants, such as dust mites, pet dander or tobacco smoke. Allergy shots may be helpful, too.
New guidelines from the American Academy of Allergy, Asthma & Immunology measure success by how well asthma is controlled on a daily basis, instead the severity of the condition at the initial diagnosis. These guidelines also address medications, environmental triggers and education.
Winter Is Asthma Season
Kids with asthma have a tougher time during the fall and winter months. Respiratory infections, exercise and cold air may trigger an attack. Kids also spend more time inside, where they are exposed to indoor allergens and irritants. Dr. Galant recommends an annual flu shot for asthmatic children who are not allergic to eggs.
"The outlook for kids with asthma is very good," Dr. Galant says. "With management, many kids can lead normal lives, and participate in both academic and physical activities."
Where To Find Help
Recognized for excellence and research, CHOC Allergy, Asthma and Immunology physicians offer the latest treatment options with an emphasis on prevention, intervention, education and self-management. To schedule an appointment with a CHOC Allergy/Immunology specialist, please call (714) 633-6363.
CHOC Breathmobile
Fully equipped mobile vans staffed with allergists, nurses and pharmacists providing onsite care. The CHOC Breathmobile makes monthly visits to schools and community centers in underserved areas, providing complete asthma testing, treatment, follow up and education. For more information, please call (714) 532-7571.
Could It Be Asthma?
Call your pediatrician if your child has the following symptoms:
Recurrent or chronic cough
Chronic or recurrent wheezing
Coughing or wheezing with exercise
Chest tightness or shortness of breath
Symptoms that dramatically improve with albuterol
Family history of allergy or asthma, especially mother
History of allergy, eczema or sneezing
Specialty Care For Asthma/Chronic Lung Disease
Asthma affects babies and young children differently. CHOC and the University of California, Irvine, are collaborating on a program specifically for children. Located on the CHOC campus, the Asthma/Chronic Lung Disease (ACLD) Program offers treatment for all disorders of the lungs and respiratory system, including specialty care for asthma and allergy.
Community asthma education programs are also available. To arrange for a nurse educator to come and speak to the students, parents or staff at your child's school, please call Connie Carcel, RN, Nurse Educator, at (714) 532-7591 or Lisa Lara, RN, Nurse Educator, at (714) 532-7577