CHOC Children's Publications
Kid's Health (Archive)


Our award-winning Kid's Health Magazine is designed to provide healthful information for your growing child. Please Note: Kid's Health Magazine is no longer being printed. Please visit our blog at http://www.choc.org/blog for the latest articles about your child's health from the experts at CHOC Children's. You can also receive our electronic Kid's Health newsletter in your inbox by subscribing to our mailing list: http://www.choc.org/subscribe

---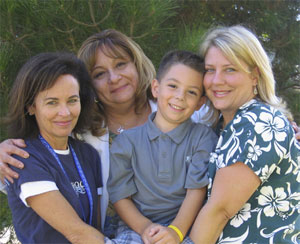 Making a Mark
Zachary Torres, age 6
Four years ago, a trip to the pediatrician's office became a turning point in the lives of the Torres family. Steve and Gina Torres took their youngest son Zachary, then age 2, in for what appeared to be a lingering cold. CHOC pediatrician Maureen Downes, M.D., ran a blood test during the office visit. When she saw the results, Zachary didn't go home that day — he went straight to CHOC.

After three tense days of additional tests, Steve and Gina were devastated to learn that Zachary had leukemia. But the CHOC physicians had reasons to offer them hope. First, thanks to their alert pediatrician, the leukemia had been caught very early. Also, the type of leukemia Zachary had was known to respond well to treatment. The CHOC oncology team began planning his treatment that very afternoon.

Steve and Gina decided to enroll Zachary into a randomized cancer study because they wanted to be sure his experience would benefit other children. As part of this study, Zachary's treatment plan called for double doses of chemotherapy.

After the first week of treatment, follow-up tests could not detect any cancer cells — another very promising sign. But Zachary still had to undergo three and a half years of aggressive cancer treatment. His mother never left his side during the many times he was hospitalized at CHOC. Friends, family members and teachers helped the Torres' care for their two older children while she was away from home. Zachary's brother and sister often came to CHOC directly from school and did their homework in his hospital room.

Gina Torres says that prayers, faith and hope helped her cope during the roughest times."What got me through it the most was seeing the other kids come back to visit the nurses in the oncology floor. Some were teens and others were about 6 years old — the same age Zachary is now," she says. "It gave me hope to see that they had beaten it."

Zachary is now one of those kids who comes back to CHOC to visit the nurses. His treatment officially ended a year ago, but he returns every two months for follow-up. And the minute Zachary steps onto the Oncology unit, the nurses rush over to greet him with big smiles, hugs and kisses.

"Throughout his treatment, Zachary never complained about anything that hurt him," recalls his father, Steve. "You can't fool a child, and Zachary completely trusted the CHOC staff. His nurses and doctors loved him back."

To be in remission for five years is an important milestone in cancer survival, and Zachary has a little less than four years to go before he gets there, too. In the meantime, he has begun a new chapter in his life: kindergarten. Gina says that when people meet her son for the first time, they have a hard time believing he was ever so sick.

But Steve and Gina will never forget. An ordinary night with three healthy children around the dinner table is a blessing they will never take for granted.