CHOC Children's Publications
Kid's Health (Archive)


Our award-winning Kid's Health Magazine is designed to provide healthful information for your growing child. Please Note: Kid's Health Magazine is no longer being printed. Please visit our blog at http://www.choc.org/blog for the latest articles about your child's health from the experts at CHOC Children's. You can also receive our electronic Kid's Health newsletter in your inbox by subscribing to our mailing list: http://www.choc.org/subscribe

---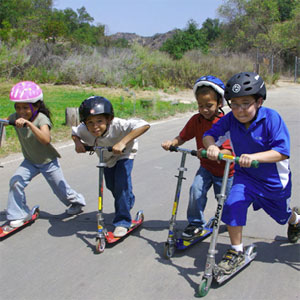 Give Kids More Free Playtime

"Children need a healthy balance between school and play. When I work with teens who are struggling in classes, I contact the school to find at least one fun activity for them. Having something fun to look forward every day, such as sports, dance, music or art, makes it more bearable for them to stay in school." Nadia Torres-Eaton, Psy.D. CHOC Pediatric Psychologist

Does "back to school" mean "back to busy" at your house? Schedule in some playtime, says CHOC pediatric psychologist Nadia Torres-Eaton, Psy.D. Childhood shouldn't be all about doing homework, rushing to activities, or sitting in front of a television set.

"For children, play and learning are the same thing" Dr. Torres-Eaton says. "Play helps young children build all of their senses and master skills. School-age children and teens build social skills through play."

And by play, Dr. Torres-Eaton means "active play with other children" She advises limiting screen time because it is far more important for children to use this time interacting with others instead of sitting at home immersed in an electronic world.

"Video games make children more passive," she says. "Also, games featuring violence desensitize children to violent acts. By the time teens are finished with high school, they will have witnessed more than 200,000 acts of violence just from movies, television shows and video games combined."

LEARNING THROUGH PLAY

Toddlers Repetitive play activities help young children master new skills - a time to explore and use the imagination. Dr. Torres says play dates start becoming very important at this age.

School Age Interactive play activities help children learn about relationships, negotiate social skills, and recognize the other people point of view. Dr. Torres points out that children at this age have a "black and white" perspective of the world. Many of their games involve rules and counting because they are learning how to master those skills.

Teens Play helps teens refine social skills, learn teamwork, and negotiate more complex relationships. Also, involvement in sports activities at this age can help them work out frustration.

Notice whether your child seems to do better in a large group or one-on-one with friends. Belonging to a sports team or joining an afterschool activity such as scouting may also help build social skills.

For more information, Dr. Torres-Eaton recommends The Successful Child, by William Sears, M.D., and Martha Sears, R.N. You may also contact her through CHOC Pediatric Psychology at (714) 532-8481.

Toys to Grow on
Are toys on your holiday gift list? When selecting a toy for your child, consider the following:
Is it safe?
What will it teach my child?
Will it hold my child's attention?
Is it annoying for me to hear and see?
Does it promote creativity and social interaction?
Is it non-aggressive?
Does it foster hand-eye coordination?
How many senses does it stimulate?
Will I enjoy playing with this toy?
Will the toy have a long play life?