CHOC Children's Publications
Kid's Health (Archive)


Our award-winning Kid's Health Magazine is designed to provide healthful information for your growing child. Please Note: Kid's Health Magazine is no longer being printed. Please visit our blog at http://www.choc.org/blog for the latest articles about your child's health from the experts at CHOC Children's. You can also receive our electronic Kid's Health newsletter in your inbox by subscribing to our mailing list: http://www.choc.org/subscribe

---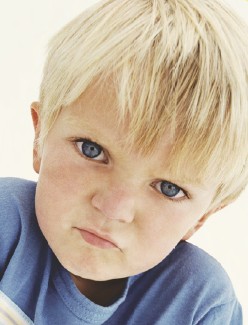 Tame Your Toddler's Tantrums
Children thrive on consistency and flounder on inconsistency.
It used to be easy to take your daughter shopping, but she has definitely entered a new stage. She wants that candy, and she wants it now. She won't take your calm "No" for an answer — you've got a complete meltdown.

Whatever happened to your sweet little baby?

You may be comforted to know that temper tantrums are completely normal. In fact, tantrums are all part of your toddler's development. She's trying to establish independence and take on more complex tasks. Inevitably, she's going to feel frustrated or overwhelmed.

"It's just human nature. Even frustrated adults feel like having tantrums sometimes," says CHOC pediatrician Michael Weiss, D.O. Still, he does recommend consulting with your toddler's doctor. In extremely rare cases, there may be an underlying medical or developmental issue.

Although tantrums cannot be completely avoided, they can be managed. These tried-and-true coping strategies come from Dr. Weiss' experiences as a pediatrician and a father.

Have Realistic Expectations — Is what you are asking your toddler to do reasonable? Make sure your expectations are in line with your child's developmental abilities.

Be Consistent — Make sure that everyone caring for your child is on the same page, including your spouse, grandparents and daycare providers. Avoid sending mixed messages.

Pick your Battles — Ask yourself if the issue is really important. Try to take unimportant things less seriously. But always stand your ground during battles over bathing, brushing teeth, riding in a car seat, and wearing a helmet.

Ignore When Appropriate — Any kind of attention reinforces your child's behavior. So as long as she's not doing something serious or harmful, ignore it. If your toddler doesn't get a reaction from you, she'll stop doing it.

Reward as much as Possible — Take every opportunity to give her positive reinforcement. "If it has been one of those days, and for just one millisecond your daughter is being quiet, walk up to her, put your hand on her shoulder, look into her eyes and say, 'Good girl. I love you. You are playing so nicely.' Chances are your daughter will think about what resulted in that positive reinforcement and keep acting the same way for more," Dr. Weiss says.

Avoid Recurrent Battles — If dining out or shopping always seems to result in a meltdown, maybe the best solution is to not take her.

"When my kids were very young, they would go nuts in the supermarket," Dr. Weiss recalls. "So my wife decided to wait until I came home, and then go by herself. Did we have to alter our lives a bit? Sure, but ultimately everyone was happy."

Michael Weiss, D.O. is a general pediatrician in Rancho Santa Margarita. His office is located at 29941 Aventura, Suite E & F, Rancho Santa Margarita. To contact him, please call (949) 858-1100.