CHOC Children's Publications
Kid's Health (Archive)


Our award-winning Kid's Health Magazine is designed to provide healthful information for your growing child. Please Note: Kid's Health Magazine is no longer being printed. Please visit our blog at http://www.choc.org/blog for the latest articles about your child's health from the experts at CHOC Children's. You can also receive our electronic Kid's Health newsletter in your inbox by subscribing to our mailing list: http://www.choc.org/subscribe

---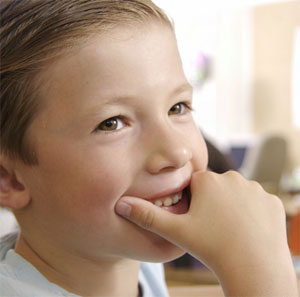 Boost Your Baby's Brain Power

The first five years of your baby's life are crucial because a young child's developing brain is influenced by experience. Eye contact, touch and sensory stimulation are all important in early learning. This is why although television and videos have their place, they are no substitutes for direct parent-child interaction.

Forget the "educational" videos and flash cards. Your baby already has what's needed to maximize early brain development: you.

Every minute you spend interacting with your baby — holding, cuddling, talking, singing and reading — is an investment in developing the language and verbal skills that are so important for overall cognitive development. The link between early language skills and verbal capabilities with later school success cannot be overemphasized, says Geeta Grover, M.D., medical director of CHOC Developmental and Behavioral Pediatrics.

"Children are born with an overabundance of neuro connections in the brain. But over the next several years, selective neurologic pruning takes place. The neuro connections that have that not been stimulated will be pruned away," Dr. Grover explains. "That is why although 'educational' television and videos do have their place, they cannot substitute for the stimulation provided by direct parental interaction during this very important time in a young child's life."

The American Academy of Pediatrics recommends that children ages 2 and younger not watch television. Older children should be limited to no more than two hours of screen time — television, videos and computers combined — each day.

What Your Baby Needs From You
Touch, cuddle and hold your baby as much as possible.
Talk and sing to your baby.
Reward all of your baby's utterances by responding.
Provide a running commentary while performing daily activities.
Recite nursery rhymes — rhyming helps develop crucial pre-literacy skills.
Start reading aloud daily when your baby reaches 6 months.
Make reading part of your bedtime or naptime routine.
Ask questions.
Use easy words and avoid criticizing pronunciation or grammatical errors.
Don't force your child to learn to read.
Have your child's hearing evaluated if you have concerns.
Geeta Grover, M.D., specializes in the evaluation and management of children with ADHD, learning disabilities, educational concerns and autism-spectrum disorders. Her private practice is located at 30131 Town Center Drive, Suite 130, in Laguna Niguel. To contact her, please call (949) 249-6920.


Is your child getting enough sleep?
Send your child to school well rested, because lack of sleep may cause in attentiveness. Be careful about over-scheduling your child, and limit after-school sports and other activities if necessary.

Age

Average Hours of Sleep Needed

---

1 year old
14 (10 at night, plus two daytime naps)

---

2 years
13 (11 to 12 at night, plus one daytime nap)

---

Preschoolers
12 (some children may nap until age 5)

---

School-age children
10 to 11

---

Adolescents
9