CHOC Children's Publications
---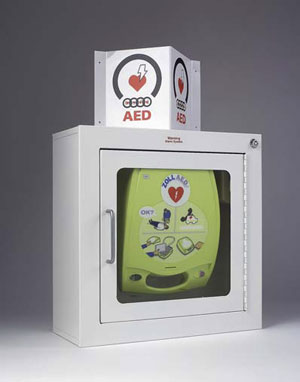 AHA Recommends Emergency Medical Plan for Schools
By Anjan Batra, MD, FACC, FAAP, Naspexam testamur
Director of Electrophysiology, The CHOC Heart Institute
According to the American Heart Association, on many days, as much as 20 percent of the U.S. adult and child population can be found in schools. And each year, more than one third of schools may have an emergency that requires activation of the EMS system.
The American Heart Association introduced a public health initiative to help schools prepare to handle life-threatening medical emergencies such as sudden cardiac arrest (SCA) in the first crucial minutes before the arrival of EMS. A major component of this initiative is the implementation of a lay-rescuer automated external defibrillator (AED) program in schools with an established need.
About Sudden Cardiac Arrest
SCA is an abrupt disruption of the heart function causing lack of blood flow to vital organs. Victims of SCA are unresponsive, with no breathing and no signs of circulation. As a major public health problem in the United States , improving survival after out-of-hospital cardiac arrest has been the subject of intense discussion and study.
Some of the common causes of SCA in children and adolescents include
Specific cardiac conditions present since birth such as hypertrophic cardiomyopathy and anomalous coronary artery
A heart concussion from a projectile hit on the chest
Electrolyte abnormalities from excessive sweating, rapid weight loss or eating disorders
Prolonged QT syndrome that may present with ventricular fibrillation
Ventricular fibrillation is the most frequent initial rhythm in SCA. The only effective treatment for ventricular fibrillation is defibrillation—the application of a brief pulse of electrical current to the heart to halt the electrical chaos. The probability of successful defibrillation diminishes rapidly over time and ventricular fibrillation tends to convert to asystole within a few minutes.
When a person suffers a sudden cardiac arrest, his or her chance of survival decreases by 7-10 percent for each minute that passes without defibrillation.
AEDs are Effective in Pediatric Rescues
An AED is a small, portable device that analyzes the heart's rhythm and can deliver a defibrillation shock if it determines one is needed. It can guide trained, non-medical personnel through each step of the defibrillation process by providing voice and/or visual prompts.
The American Heart Association now recommends AEDs for use in children over one year of age and case reports have demonstrated successful use of AEDs in infants even younger. Most AEDs can handle both adult and pediatric rescues and include separate and specific algorithms for adults and children.
Preparing Schools for AEDs
School teachers, school nurses, athletic trainers and coaches represent a potentially effective first-response component during disasters and isolated emergencies in the school environment.
The American Heart Association recommends that schools meeting any of the following conditions implement an AED program if:
there has been a history of a cardiac arrest within the past five years,
there are children attending the school or adults working at the school who are thought to be at high risk for SCA,
or the emergency-call-to-shock interval is greater than five minutes.
Advocating for AEDs
Federal legislation HR 389, the Automatic Defibrillation in Adam's Memory (ADAM) Act, provides schools with the guidance and resources necessary to set up public access to automated external defibrillator programs. In California , state law requires for AED training requires the completion of a basic CPR and AED use course that complies with regulations adopted by the EMS Authority and the standards of the American Heart Association or the American Red Cross.
To learn more about AED programs or how to start one in your area, visit www.americanheart.org. For more information about arrhythmias, visit the CHOC Heart Institute at www.choc.org.