CHOC Children's Publications
Kid's Health (Archive)


Our award-winning Kid's Health Magazine is designed to provide healthful information for your growing child. Please Note: Kid's Health Magazine is no longer being printed. Please visit our blog at http://www.choc.org/blog for the latest articles about your child's health from the experts at CHOC Children's. You can also receive our electronic Kid's Health newsletter in your inbox by subscribing to our mailing list: http://www.choc.org/subscribe

---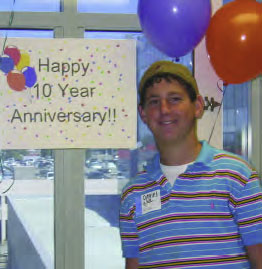 Former CHOC Patient Celebrates 10th Anniversary of Successful Transplant

In the summer of 2006, former patient Danny Simon wanted to return to CHOC. He didn't need medical attention; he just wanted to celebrate and thank CHOC's medical team for saving his life a decade earlier.

At age 10, Danny was diagnosed with Acute Myelogenous Leukemia (AML) - a cancer of the blood and bone marrow. His only hope for a cure was a bone marrow transplant. After consulting several physicians, a family friend recommended they obtain expert advice from Dr. Leonard Sender, a well-known and respected physician and medical director of The CHOC Cancer Institute. The family flew to Orange County from Atlanta, Georgia to meet him and tour the hospital. After meeting Dr. Sender and the oncology team, they immediately decided that Danny should be treated at CHOC. The family packed up and temporarily moved to Orange County three weeks later to begin Danny's journey.

At CHOC, Danny was one of the first patients in the world to receive an umbilical cord transplant. CHOC helped the family, uprooted from Atlanta, cope and find balance during such a challenging time. Danny's siblings, who are adults now, recall with fondness the meals at CHOC and fun times in the playrooms. Today, Danny is a healthy young man and thriving in college. He will always recall his life-saving experience at CHOC with positive memories and looks forward to a lifetime of celebrations thanks to CHOC.