CHOC Children's Publications
Making a Mark


Making a Mark is published bi-annually by the CHOC Foundation. It features CHOC and children?s healthcare news, patient highlights, hospital updates, board member spotlights, and community involvement stories and is mailed to donors who support CHOC with a gift of $250 and more.

---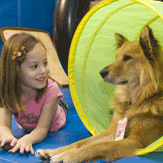 Four-Legged Friends Bring Smiles to CHOC Patients and Staff

The frightened little girl sitting in the ER was clutching her broken arm and crying inconsolably, but then something wonderful happened. Mort walked in and put his paws on her lap?and within moments her tears stopped and her face was transformed by a big smile.
Mort, a Golden Retriever, and his handler Ernie Knapp are part of the Pet Therapy program at CHOC. They, along with 36 other volunteer teams, visit children at CHOC in the clinics, inpatient floors, waiting rooms, and Emergency Department. The pet therapy dogs and their handlers may be seen regularly throughout the hospital campus any day of the week.
When a dog prances into CHOC, most visitors do a double take. But moments later, faces light up with broad grins. Typically, there is an immediate response to the tail wagging and furry faces. These four-footed volunteers truly give something special to enhance the health and well-being of the children at CHOC.
Charlie Ridge visits CHOC every Monday with Mabel, her 8-year-old Pomeranian. According to Charlie, ?Mabel knows exactly when it?s her day to visit CHOC; she gets so excited. Even the staff refers to Monday as ?Mabel Mondays!?? ?Mabel loves visiting the kids so much,? says Charlie. ?She particularly likes to help them through procedures that are scary for them, such as having a cast removed. One little boy held Mabel?s paw during his entire procedure.?
Janell Keider rescued her dog Jenna from the pound, where she was scheduled to be put to sleep. Shortly thereafter, Jenna endured two weeks in the doggy-version of the ICU. According to Janell, ?I show kids pictures of Jenna in the ICU and explain to them that Jenna knows what it feels like to be in the hospital. It comforts them that she can relate.?
?This is honestly the best volunteer job I have ever had,? Janell continues. ?Jenna just has so much empathy. For example, the children who undergo chemotherapy often get cold after a treatment. Jenna will lie next to them to keep them warm.?
?One of my favorite memories is the time Jenna was spotted by a little girl in a wheelchair who had both legs amputated below the knee. She was so happy to be with Jenna and she asked me if she could walk her around the hospital. Within moments, she was out of her chair and walking proudly through the hospital as she led Jenna by her leash. Despite the eyes that followed that little girl down the hall, for that moment, her disability was eclipsed by the sheer joy in her face.?
Indeed, the pet therapy dogs and their handlers generate much happiness among the patients, families and staff at CHOC. Each volunteer team plays a vital role in the treatment of patients. These special canine teams also bring much joy with guest appearances at CHOC events such as Cancer Survivors Day, Halloween festivities, and the NICU Reunion?a time when former patients of the Neonatal Intensive Care Unit gather to celebrate life.
Some of the dogs even dress up for special occasions, or just for the fun of it. They can be seen walking the halls wearing wings, dresses, clown outfits, bows, and hula skirts. Mabel even has an armoire at her house to hold all of her clothes! Patients and staff alike look forward to the dogs? visits to CHOC. Some Associates keep treats on hand for their fourlegged friends, and many of the kids eagerly await a playful visit from their favorite furry pal. The dogs who visit CHOC come in all shapes and sizes. Some have pedigrees, some have been adopted, but all of them seem very proud to wear their CHOC volunteer badges.
Pet Therapy teams are registered with the Delta Society or Therapy Dogs International, organizations that certify teams once they have passed several tests. Ernie likes to joke that, ?Mort did better on his part of the test than I did!?
It has been clinically proven that through petting, touching and talking with animals, patients? blood pressure is lowered, stress is relieved and fear and depression are eased. In fact, a recent American Heart Association study showed that a 12-minute dog visit lowered blood pressure and reduced the production of damaging hormones in cardiac patients and those with hypertension.
CHOC Pet Therapy volunteers provide tangible benefits to patients, parents and associates during their visits. These include increased self-esteem, improved communication, enhanced motivation to resume activities, strengthening trust in the hospital?s clinical staff, reduction in daily stress, and a more positive attitude.
According to Therapy Dogs International and the Delta Society, there are more than 16,000 volunteer teams operating in 50 states and 4 other countries, helping more than 900,000 people each year.
For more information about the Pet Therapy program at CHOC, contact Emily Baxter in the Child Life department at 714.532.8473, or email ebaxter@choc.org. Or, to support the program financially, please call 714.532.8690.