CHOC Children's Publications
Making a Mark


Making a Mark is published bi-annually by the CHOC Foundation. It features CHOC and children?s healthcare news, patient highlights, hospital updates, board member spotlights, and community involvement stories and is mailed to donors who support CHOC with a gift of $250 and more.

---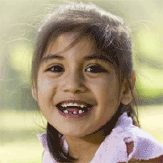 Five Year Old Girl Survives Congenital Heart Condition and Fatal Lung Disease

When Erica Ortega was 3 days old, she was diagnosed with hypoplastic left heart syndrome, a congenital heart condition that if left untreated is usually fatal. Since then, the 5-year-old has undergone three surgeries to correct the defect in her heart, the most recent of which she underwent this year.


When Erica's mother Lorena noticed fluid building up in her daughter's face recently, she instantly grew concerned. Fearing a negative reaction to the last surgery, Lorena immediately took her daughter to an emergency room, and the physicians directed her to CHOC.


At CHOC, doctors in the Heart Institute quickly diagnosed Erica with plastic bronchitis, a rare and sometimes fatal disease associated with her recent surgery. The condition causes a thick, fibrous substance to develop in the lungs, leading to severe respiratory distress.


CHOC Pulmonologist David Hicks, M.D., and Pediatric Cardiologist Farhouch Berdjis, M.D., administered a variety of therapies to aggressively treat the disease in Erica's lungs, but her body did not respond to any of them. Medical Director of the CHOC Heart Institute, Dr. Anthony Chang, M.D., M.B.A., and members of his team decided to use a novel technique to administer medication called inhaled tissue plasminogen activator (t-PA), which increases oxygenation in the blood by dissolving the thick secretions in the tissues.


t-PA is a blood clot-busting therapy normally given intravenously to treat heart attack and stroke patients. But, it was recently discovered that when inhaled, it can successfully treat children suffering from resistant plastic bronchitis by dissolving the stubborn substance and therefore improving oxygenation to the lungs. Inhaled t-PA had only been used in a handful of cases around the world, and never before at CHOC.


Through a coordinated effort among Erica's doctors, nurses, and CHOC pharmacists, Erica became the first patient at CHOC to undergo inhaled t-PA treatment, and her lungs responded immediately to the therapy.


Today Erica's lungs function normally. After witnessing the spirit of this rambunctious, playful girl, it's easy to understand how she battled two near-fatal diseases and won.