CHOC Children's Publications
Kid's Health (Archive)


Our award-winning Kid's Health Magazine is designed to provide healthful information for your growing child. Please Note: Kid's Health Magazine is no longer being printed. Please visit our blog at http://www.choc.org/blog for the latest articles about your child's health from the experts at CHOC Children's. You can also receive our electronic Kid's Health newsletter in your inbox by subscribing to our mailing list: http://www.choc.org/subscribe

---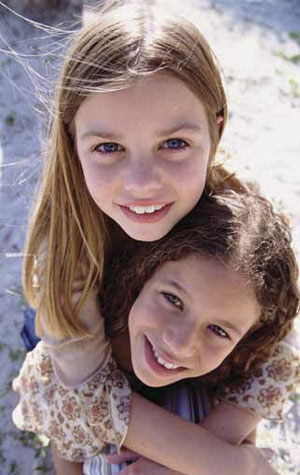 Caring Support For The "Well" Child

Having a child with a chronic illness or special needs can be physically, emotionally and financially difficult for parents. But what about the other children in the family?


Life understandably may revolve around the needs of the sick child. Healthy brothers and sisters tag along in waiting rooms and hospitals, or spend more time with relatives or caregivers. They may be asked to take on more responsibilities to help out. Favorite activities may have to be given up if the family can no longer make practices or rehearsals.

The experience of growing up with a seriously or chronically ill brother or sister may teach important life lessons about empathy, compassion and kindness. But healthy siblings are also likely to experience feelings of fear, guilt, jealousy, anxiety, depression, anger, social adjustment problems, headaches and stomachaches.


"It's long been known that a chronic illness impacts every member of the family. Just how much it impacts the siblings is becoming increasingly clear," says CHOC pediatric psychologist Marni Nagel, Ph.D. "A healthy sibling may be scared that the sick child may die. At the same time there may be guilt for resenting all the attention the sick child is receiving. Younger children, who tend to have 'magical thinking,' may feel somehow responsible for causing the illness."


CHOC Pediatric Psychology and CHOC Child Life Specialists routinely work with siblings as part of providing "family centered" care. Age-appropriate techniques are used to help them understand a sick sibling's diagnosis and treatment, express feelings and develop effective coping skills.


"Siblings want to be helpful. They will put aside their own needs to accommodate the sick sibling's needs," Dr. Nagel says. "But they may not realize until later that they are feeling jealous or angry, so watch for it."


HOW TO HELP HEALTHY CHILDREN COPE

Talk About It. Ask how things have changed. How has the other child's illness impacted their lives? How do they feel about it? A healthy child may sound selfish at times, but it helps to be able to express feelings. Just listen and avoid judgment. If talking about it is difficult, have your children express feelings through art or play.
Schedule special time together. So your healthy children know they are just as important to you.
Assign special responsibilities to every member of family. Not every responsibility has to be related to chores. Why not have the healthy siblings plan the next family outing?