CHOC Children's Publications
Kid's Health (Archive)


Our award-winning Kid's Health Magazine is designed to provide healthful information for your growing child. Please Note: Kid's Health Magazine is no longer being printed. Please visit our blog at http://www.choc.org/blog for the latest articles about your child's health from the experts at CHOC Children's. You can also receive our electronic Kid's Health newsletter in your inbox by subscribing to our mailing list: http://www.choc.org/subscribe

---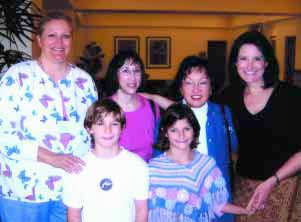 Getting Involved: It's Never Too Early To Show Support

Although she can't completely remember it all, 10-year-old Hope Saxon knows the doctors and nurses in the Neonatal Intensive Care Unit (NICU) at CHOC at Mission helped save her life. Born at just one and a half pounds, she spent many weeks there. Now she has found a way to give back.

Hope's family has a special rule on how Hope and her twin brother, Griffin, can use their allowance. One third goes into savings, one third is for personal spending, and the final one third is for a philanthropic organization of their choice.

After having seen pictures of herself in the NICU and talking with her parents about the lives saved at CHOC, Hope knew exactly where she wanted her philanthropic funds to go.

Earlier this year, Hope stopped by to visit the CHOC at Mission NICU and reunite with the nurses who cared for her. She was so inspired that not only did she give her year's philanthropy money to CHOC at Mission, but added in some of her own spending money as well. With a smile on her face, Hope proudly presented a $115 check to the hospital.

"I wanted to give to CHOC at Mission because they saved my life," Hope says. "We feel indebted to CHOC," says Hope's mother. "We know miracles happen there." As a non-profit organization, CHOC relies and depends on support from individuals - just like the Saxon family - who understand the necessity for the vital, life-saving services we provide everyday. And in an effort to continue to meet the needs of the growing pediatric population, we are building out many areas, including the CHOC at Mission emergency department and the intensive care unit floor at the hospital in Orange.

If you would like to make a mark and donate to either of these important and crucial causes, please call the CHOC Foundation for Children at (714) 532-8690. Thank you for your support.