CHOC Children's Publications
Kid's Health (Archive)


Our award-winning Kid's Health Magazine is designed to provide healthful information for your growing child. Please Note: Kid's Health Magazine is no longer being printed. Please visit our blog at http://www.choc.org/blog for the latest articles about your child's health from the experts at CHOC Children's. You can also receive our electronic Kid's Health newsletter in your inbox by subscribing to our mailing list: http://www.choc.org/subscribe

---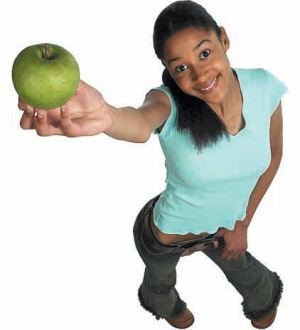 March is National Nutrition Month
VARIETY IS ESSENTIAL TO A HEALTHY LIFE
Are you frustrated because your child isn't eating more fruits and vegetables? Just keep trying, says Sue Freck, R.D., a CHOC registered dietitian. You may have to serve a new food as often as 10 times before your child will show any interest in it. So encourage just one bite every time, and don't give up.

A healthy diet comes from a wide selection of foods, but many children are not eating the variety of fruits and vegetables they need. A 2006 study published by the American Dietetic Association showed that toddlers start eating fewer fruits and vegetables as they transition away from prepared baby food. White potatoes tended to be the vegetable of choice, in the form of French fries and mashed potatoes.

Early childhood is a critical time for developing food preferences and eating habits. Freck says pleasurable associations with shopping, food preparation and family meals help children develop healthy dietary habits for life.

AT THE GROCERY STORE
Enlist your child's help in choosing fruits and vegetables from a variety of colors and textures. Try something new every week.

"Make a game out of it. Say, 'Let's try some purple fruits and vegetables." The child may not even eat red cabbage, but they might be able to help unpeel the leaves and taste it," Freck says. "Or try a letter from the alphabet. For example, 'K' could be for kale, kumquat or kiwi."

IN THE KITCHEN
Cooking involves reading, math and science. Have your child match colors, or talk about where fruits and vegetables come from. You can also give your young helpers some hands-on experience:
Ages 2 - 3. Young children can shred, shape, squeeze and scoop. They can wash fruit, tear lettuce for salad, make meatballs, and even put napkins on the table.
Ages 4 - 5. Bigger kids can help with measuring and combining. They can also use a plastic knife to cut up soft fruits, like pears and bananas.
Ages 6 - 9. Older kids can read recipes, measure accurately, roll out dough, and put the rub on the meat.
AT THE TABLE
How often do you sit down together as a family for dinner? If schedules conflict, consider breakfast. Try eating together several times a week. Ideally, mealtimes should be pleasurable experiences that offer children the chance to try new foods and the opportunity to learn good eating habits from their parents.

"Children need to learn how to pace themselves, be aware of when they are full, and not get into the overeating pattern," Freck says. "Home is the ideal place to encourage life-long, healthy eating habits."