CHOC Children's Publications
Kid's Health (Archive)


Our award-winning Kid's Health Magazine is designed to provide healthful information for your growing child. Please Note: Kid's Health Magazine is no longer being printed. Please visit our blog at http://www.choc.org/blog for the latest articles about your child's health from the experts at CHOC Children's. You can also receive our electronic Kid's Health newsletter in your inbox by subscribing to our mailing list: http://www.choc.org/subscribe

---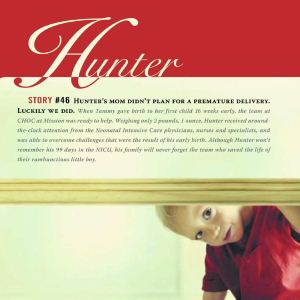 Grateful Mom Supports CHOC

Every child who comes to CHOC or CHOC at Mission has a compelling story. Tammy Peasley, the mother of Hunter Peasley, shown at left, graciously allowed us to share her son's story out of gratitude for the care he received in the Neonatal Intensive Care Unit (NICU) at CHOC at Mission.

Hunter is one of 100 children, all current or former CHOC patients, who have been profiled as part of our "Making A Mark" campaign. Perhaps you've seen their stories in newspapers, magazines and other areas around Orange County. These dramatic profiles offer glimpses into the complex world of pediatric medicine, and underscore the capable expertise of our doctors, nurses and hospital staff in providing the most advanced medical for Orange County's critically ill or injured children.

Tammy and her husband, Sean, will never forget the CHOC at Mission NICU, where Hunter spent the first 99 days of his life. One memory that particularly stands out: watching neonatologist Steve Hanton, M.D., repeatedly force breath into Hunter's tiny lungs for three straight hours. With expert, around-the-clock care from the CHOC at Mission NICU team, Hunter overcame several medical problems and multiple surgeries.

Today, Tammy feels so indebted to CHOC, she has joined the board of the Padrinos, a support group of men and women who increase awareness of and raise funds for CHOC - both in Orange and Mission Viejo. Allowing Hunter's story to be shared is another way of saying "thank you" to the CHOC at Mission NICU team.

"I hate to think of what would have happened if Hunter didn't have the immediate access to the best in neonatal care at CHOC at Mission. There's no doubt in my mind or in my heart that they saved his life," Tammy Peasley says. "There's no way we can ever give back to them enough, but we will certainly do our best in supporting CHOC and in encouraging others to do so."

Please call the CHOC Foundation at (714) 532-8690 to place a donation.