CHOC Children's Publications
Kid's Health (Archive)


Our award-winning Kid's Health Magazine is designed to provide healthful information for your growing child. Please Note: Kid's Health Magazine is no longer being printed. Please visit our blog at http://www.choc.org/blog for the latest articles about your child's health from the experts at CHOC Children's. You can also receive our electronic Kid's Health newsletter in your inbox by subscribing to our mailing list: http://www.choc.org/subscribe

---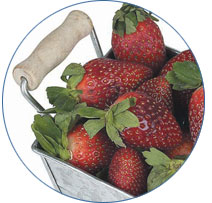 Reduce Your Child's Risk For Food Allergies

Allergic diseases such as food allergy, eczema, hay fever and asthma are definitely on the rise. But you may be able to help your child avoid one of them. Delaying the introduction of certain high-risk foods until after age 3 significantly reduces the chances of your child developing a food allergy. This is especially important if your family has a history of allergies.
An allergen is a harmless substance that causes an allergic reaction in individuals who are sensitive to it. According to CHOC allergist Mark Ellis, M.D., a combination of genetics and untimely exposure to allergens causes allergies to develop. "If one parent has allergies, the child has a one-in-three chance of also developing an allergic disorder. But if both parents are allergic, the child may have as high as a two-in-three chance," Dr. Ellis says.

However, he adds that a child cannot become allergic to something without being exposed to it. This is why it is important to delay the introduction of the worst offenders like peanuts, walnuts, fish and shellfish until after age 3. After that point, the child's body will be better able to handle these foods.

"The digestive system in infants and young toddlers tends to be 'leaky,' and they absorb undigested proteins more readily than older children," Dr. Ellis says. "Milk, soy and eggs are also very common allergens with infants. Fortunately, they tend to outgrow those types of allergies by age 3."

He notes that all allergic disorders tend to cluster. At age 1 or 2, a child may experience eczema associated with a food allergy. A few years later, the child may develop hay fever and eventually progress into asthma. There is ongoing allergy research to see if there is a way to halt the progression of allergic disorders.

HELP MAY SOON BE ON THE WAY

Monoclonal antibodies, directed toward the allergy antibody, IgE, have shown some success in helping older children with severe allergies. In one study, an allergic patient was able to eat up to nine peanuts without a severe reaction compared to only half a peanut prior to treatment. This treatment is currently approved for children age 12 and older with asthma. Dr. Ellis is currently working on a similar study in asthmatic children ages 6 to 11. This treatment could potentially serve as a back-up system for kids who may be accidentally exposed to an allergen.

If your child has a food allergy, Dr. Ellis recommends contacting the Food Allergy Network for educational materials explaining how to read food labels at (800) 929-4040 or www.foodallergy.org. For more information, please contact Dr. Ellis at (714) 633-6363.