CHOC Children's Publications
Kid's Health (Archive)


Our award-winning Kid's Health Magazine is designed to provide healthful information for your growing child. Please Note: Kid's Health Magazine is no longer being printed. Please visit our blog at http://www.choc.org/blog for the latest articles about your child's health from the experts at CHOC Children's. You can also receive our electronic Kid's Health newsletter in your inbox by subscribing to our mailing list: http://www.choc.org/subscribe

---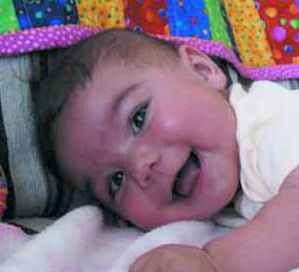 A Change of Heart

Little Nadia Garilli made history on March 9, 2004, when she was just 7 days old. That was when she became the first Orange County child to undergo the Sano procedure, a new modification of a technique used in the first of three surgeries to correct hypoplastic left heart syndrome. Compared with the conventional first-stage Norwood procedure, patients undergoing the Sano modification are more medically stable immediately after surgery, experience fewer complications, and have a better overall post-operative survival rate.

Congenital heart defects occur in six to eight out of every 1,000 live births, and hypoplastic left heart syndrome is one of the most difficult to treat. In this condition, the left side of the heart - the side that pumps blood out to the rest of the body - fails to form properly during fetal development.

The symptoms of hypoplastic left heart syndrome are not immediately obvious at birth, but brand-new parents Anthony and Bianca Garilli realized within an hour of bringing Nadia home that something was terribly wrong. Her breathing seemed labored, her coloring was ashen, and her skin was cold. Alarmed, they rushed their newborn to the nearest hospital. There, the emergency room physician took one look and immediately contacted CHOC.

When Nadia arrived in the CHOC Neonatal Intensive Care Unit, she was very sick. As a result of her heart defect not being diagnosed until after she was born, Nadia was suffering from severe cardiogenic shock, including liver and kidney failure. Surgery had to be delayed until she was strong enough to withstand it. But after seven days of collaborative, multispecialty care to reverse these conditions, Nadia was ready to join pediatric cardiac surgeon Mark Bleiweis, M.D., in the operating room.

"Hypoplastic left heart syndrome is one of the most difficult heart problems to manage, but the new Sano modification offers patients the best chances for surviving the first stage of reconstructive surgery," Dr. Bleiweis says. When Nadia came out of surgery, an entire team of CHOC physicians and nurses were waiting for her, ready to provide around-the-clock care for the next 48 hours. Fortunately, Nadia's condition stabilized within just a few hours. Still, Dr. Bleiweis and the rest of the CHOC team stayed close by - just in case.

Nadia's recovery continued to go well. In July, four months later and right on schedule, she had the second stage of reconstructive surgery and was back home with her family in six days. Her third and final surgery will probably take place when she is 2, depending on her weight.

In the meantime, the Garilli family has gone on with life. Not long after Nadia's second surgery, they moved from Irvine to Lynnwood, Washington. Although they have found a pediatric cardiologist near their new home to monitor Nadia, they still keep in close contact with Dr. Bleiweis. There is no question in their minds about where they will go when Nadia is ready for her final surgery.

"When the time comes, we will return to CHOC, so Dr. Bleiweis can perform that procedure, as well. Even if we had moved to Australia, we would come back for Dr. Bleiweis and CHOC," Anthony Garilli says. "I can't tell you how much CHOC did for her. The doctors and nurses are just tremendous."