CHOC Children's Publications
Kid's Health (Archive)


Our award-winning Kid's Health Magazine is designed to provide healthful information for your growing child. Please Note: Kid's Health Magazine is no longer being printed. Please visit our blog at http://www.choc.org/blog for the latest articles about your child's health from the experts at CHOC Children's. You can also receive our electronic Kid's Health newsletter in your inbox by subscribing to our mailing list: http://www.choc.org/subscribe

---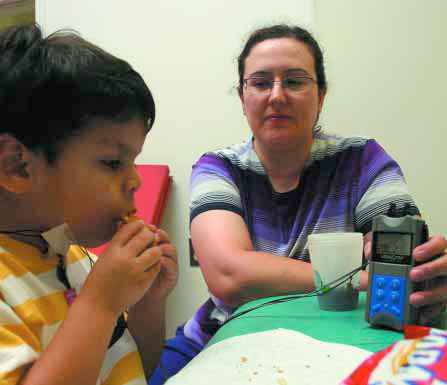 The Only West Coast Children's Hospital Offering VitalStim Therapy

Born with cerebral palsy, 1-year-old Nathan came into his adoptive family with several medical issues. RoBen Head and her husband, David, recall spending their first year with Nathan just trying to sort out all of his special needs.One of the first things they discovered was that Nathan had a swallowing disorder. He was aspirating food and liquids into his lungs whenever he ate or drank. Because of this, Nathan was having frequent chest infections, one of which developed into a potentially-deadly pneumonia. As Nathan was the sixth adopted child with special needs to join the Head family, RoBen and David were already quite familiar with the specialized services available at CHOC. RoBen made an appointment for Nathan to be evaluated at the CHOC Rehabilitation Center.

The results showed that Nathan was an excellent candidate for VitalStim Therapy, an exciting new treatment that had just become available at CHOC a few months earlier. CHOC is the only children's hospital on the West Coast offering this breakthrough medical treatment for children either born with swallowing disorders or who have developed them as a result of an injury.

VitalStim Therapy uses electrical stimulation with specially designed surface electrodes placed on the child's neck to stimulate inactive or weak swallowing muscles in children with swallowing disorders. This system activates the key swallowing muscles and helps the brain create or re-learn the functional muscle patterns necessary to initiate or re-establish swallowing. Painless and completely non-invasive, VitalStim Therapy sessions last between 45 minutes to one hour, and are used along with conventional therapy. "VitalStim Therapy has cut down the time needed to strengthen these muscles by at least half. In some children we've seen improvement in as little as two weeks," says Karin Mitchell, M.A., C.C.C.-S.L.P., CHOC Speech Therapy manager. "Another advantage is that VitalStim Therapy does not require the child's participation, so therapy can begin earlier with younger children and infants."

To assess the effectiveness of this treatment on babies born with swallowing disorders, CHOC is participating in the first-ever pediatric research study using VitalStim Therapy in the CHOC NICU.

"We are looking at how quickly we can get these babies to swallow safely and if these results carry over as they grow," Mitchell says. "So far, we are seeing great results, and we are seeing them continue six months later. This is very encouraging."

Nathan's family saw dramatic results soon after Nathan began VitalStim Therapy last May. Nathan now drinks from a regular cup, and his parents rely less on using a thickening agent in his liquids to prevent him from choking. He is eating regular foods and is working on those that require more chewing, such as carrots. Nathan will probably be finished with treatment in a few months.

Seven CHOC speech and occupational therapists are certified in providing inpatient and outpatient VitalStimTherapy. For more information or to schedule an evaluation, please call the CHOC Rehabilitation Center at (714) 516-4220.