CHOC Children's Publications
Kid's Health (Archive)


Our award-winning Kid's Health Magazine is designed to provide healthful information for your growing child. Please Note: Kid's Health Magazine is no longer being printed. Please visit our blog at http://www.choc.org/blog for the latest articles about your child's health from the experts at CHOC Children's. You can also receive our electronic Kid's Health newsletter in your inbox by subscribing to our mailing list: http://www.choc.org/subscribe

---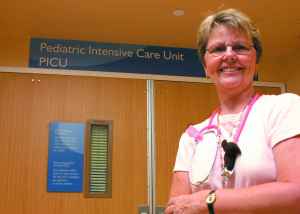 A CHOC Nurse Looks Back

When Carol Cox, R.N, completed her nursing training in 1968, she received a nurse's cap. In those days, wearing a nurse's cap was quite a badge of honor, but Carol and the other CHOC nurses found theirs getting in the way. Caps just weren't practical in their duties as pediatric nurses in the CHOC intensive care unit (ICU). They kept getting caught on things, like the zippers on oxygen tents.

Carol and the other CHOC ICU nurses decided not to wear their caps any longer. Soon, other nurses at CHOC and at other hospitals across the country were doing the same. Times were changing. Nurses also stopped wearing scrub dresses and white uniforms, and adopted more comfortable uniforms with colorful prints for the kids. Their relationship with doctors changed and became more collaborative. Carol believes all the changes that have occurred in the role of women in society over the past 40 years, happened in hospitals first.

"Nursing used to be one of four career paths for women. The other three were secretary, teacher or motherhood," Carol says. "Today, you can take your nursing career wherever you want it to go. You can become as educated and technical as you'd like. You can focus on patient care or go into research-centered nursing. The sky is the limit."

As evidence of how much nursing has changed, Carol points out the many men who have entered a profession that was once strictly the domain of women.

A Passion For Caring

Carol began caring for critically ill children at CHOC in 1968, after waiting a year and a half for a position to open up in the CHOC Intensive Care Unit. Like many of her coworkers, Carol has taken the extra step and become a certified pediatric critical care nurse. She maintains this highly specialized certification through ongoing educational classes, conferences and teaching.

"Nursing has become much more than a service occupation. There is so much responsibility and opportunity these days. In the PICU, we are at the patient's bedside 12 hours a day. Physicians rely on us to keep them informed on the minute-by-minute changes in their patients so they can use their expertise to make changes in medications and treatment," she says. "Our observations, knowledge and thoughts go into their decisions."

Technological advances in medicine have also impacted nursing. There is always something new to learn or a different way to do things. Nursing is still a lot of hard work, and Carol says it is a passion for caring that keeps her and her coworkers going.

"You come home tired, but most days you come home knowing you've made a difference and that keeps you going," she says. "One of the greatest rewards is when parents bring their children back to visit the PICU. If we didn't know that child had been so sick or close to death, we would never know it was the same kid. Kids come into the PICU very sick, but if you get on the problem right away you can usually turn them around very quickly. I can't think of anything else I would rather be doing."