CHOC Children's Publications
Kid's Health (Archive)


Our award-winning Kid's Health Magazine is designed to provide healthful information for your growing child. Please Note: Kid's Health Magazine is no longer being printed. Please visit our blog at http://www.choc.org/blog for the latest articles about your child's health from the experts at CHOC Children's. You can also receive our electronic Kid's Health newsletter in your inbox by subscribing to our mailing list: http://www.choc.org/subscribe

---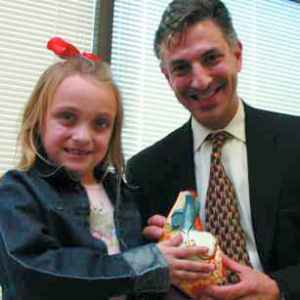 Sophisticated Heart Procedure Saves Kindergartner's Life

Not one of her five children had ever had a major illness or medical problem. Still, Linda Luchansky was a firm believer in regular check-ups. As part of getting her youngest daughter, Cassidy, ready for Kindergarten, she scheduled a well-child visit with their family practice physician.
During the appointment, Cassidy's doctor detected a heart murmur. Before leaving the office that day, she was referred to The CHOC Heart Institute. Pediatric cardiologist Michael Rebolledo, M.D., diagnosed aortic regurgitation caused by a deformed aortic valve. The aortic valve normally has three leaflets that keep blood that is pumped out of the heart from flowing back into the heart. Cassidy's aortic valve had only two leaflets.
Surgery was the only option. Dr. Rebolledo referred Cassidy to pediatric cardiac surgeon Mark S. Bleiweis, M.D., medical director of The CHOC Heart Institute. After reviewing Cassidy's case, Dr. Bleiweis recommended the Ross Procedure, a sophisticated surgical technique offering particular advantages for children.
Ross Procedure Performed Only At Major Heart Centers
The Ross Procedure uses the patient's own pulmonary valve to replace the diseased or deformed aortic valve. This is done because studies have shown that the pulmonary valve will grow along with the child, most often eliminating the need for future aortic valve replacement surgery. This technique is a significant improvement over conventional aortic valve replacement using mechanical valves because patients who use those must take blood-thinning medication for the rest of their lives. That's not necessary after the Ross Procedure. Other tissue valve replacement options, such as human allografts or porcine valves, just do not last long enough and have no growth potential.
Cassidy did receive a valve from an organ donor to replace the pulmonary valve that is now her aortic valve, and that may need replacement in about 10 to 15 years. However, pulmonary valve surgery is a much easier procedure than aortic valve replacement. During Cassidy's surgery, a CHOC cardiac nurse stayed with the Luchansky family, keeping them updated throughout the hours-long procedure. Afterward, Cassidy recovered from surgery in the Pediatric Intensive Care Unit (PICU) under the watchful eyes of pediatric cardiac nurses. Just five days later, Cassidy was back at home with her family.
Cassidy started Kindergarten last July, barely one month after the major open-heart surgery that saved her life. She has no physical limitations, and plans to play T-ball this spring. She continues to be monitored at The CHOC Heart Institute.
"We were impressed by Dr. Bleiweis and Dr. Rebolledo, not only for their training and knowledge, but also by their kindness and caring. The nursing staff in the PICU were absolutely incredible," Linda says. "It was a very scary time for our family, but we had absolute trust in the team of CHOC professionals working on Cassidy."