CHOC Children's Publications
CHOC Children's Annual Report


Everyone in Orange County is somehow connected to CHOC Children's. If it's not your own children that have been treated by our team of pediatric experts, chances are you know a few that have. Among friends, neighbors, coworkers, even people we encounter in our daily travels—CHOC is a common bond we all share. In this report, you will learn about some of our finest moments.

---
COVER STORY :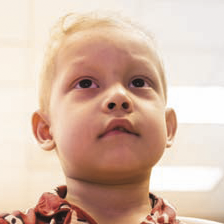 There's no such Thing as an ordinary day at CHOC Children's.
That's because the patients at CHOC Children's and CHOC Children's at Mission Hospital are anything but ordinary. Each child who enters our doors has a special story and a unique set of circumstances. Caring for these patients is becoming increasingly more complex, but CHOC remains at the forefront of exciting breakthroughs in pediatric medicine. Our world-class physicians, surgeons, nurses and other dedicated pediatric healthcare professionals possess a level of skill and experience that is unparalleled within the region. At CHOC, we are literally shaping the future of pediatric medicine. Our international team of leading specialists is conducting the basic research necessary to develop better diagnostic tools and treatment for the most challenging childhood conditions. We're also developing better strategies for prevention and enhancing quality of life. We draw referrals from throughout a four-county area, which means more than a hundred hospitals are depending on us to take ...

click here for full story...
CHOC may be one of the youngest free-standing children's hospitals in the nation, but we perform on par with childrean's hospitals that have been around for a century. and in the last decade, we have become the fastest-growing children's hospital in California.
Exceptional Team Effort Saves Newborn




In the 15 years he had worked at CHOC, Vijay Dhar, M.D., had certainly never seen anything like it: a cesarean-section performed in a hospital emergency department. But that's what was happening. Paramedics had brought in a very pregnant woman in full cardiac arrest.



click here for story...

Not a Moment to Spare




The CHOC Children's Pediatric Intensive Care Unit (PICU) was immediately alerted when paramedics brought an unconscious boy into the Hoag Hospital Newport Beach Emergency Department. At CHOC, pediatric intensivist Adam Schwarz, M.D., quickly called over pediatric neurosurgeon William Loudon, M.D., who happened to be on the unit.

In cases like this, time is of the essence. Dr. Loudon, of the CHOC Children's Neuroscience Institute, needed to see CT images of the boy's brain as quickly as possible. He asked for the state-of-the-art robot that links the Hoag Hospital Emergency Department with the CHOC PICU to be rolled over to that hospital's radiology department. This allowed the two CHOC physicians to view the CT images of the boy while discussing t...



click here for story...
More From This Issue...
CHOC Children's Institutes


The CHOC Children's Institutes: Heart, Orthopaedic, and Cancer

CHOC Children's at Mission Hospital - Building Momentum


The number of low birth-weight babies treated in the CHOC Children's at Mission Hospital Neonatal Intensive Care Unit (NICU) rose 8.3 percent each year between 2003 and 2008, and the overall demand for neonatal intensive care is forecasted to increase at least 3.5 percent annually in the coming years.

CHOC Researcher Awarded $3 Million to Find Autism's "Fingerprint"


The idea sounds like something straight out of science fiction: taking skin cells biopsied from living donors and reprogramming them into stem cells, and then turning the stem cells into brain cells for research purposes.

Memorable Community Moments


Regardless of economic climate, two million children still count on CHOC being there to provide world-class pediatric care — at a moment's notice. And thanks to the support of individuals, corporations, foundations and the CHOC Guilds, we haven't let them down.