Psychology Fellowship :: Pediatric Psychology Postdoctoral Fellowship Program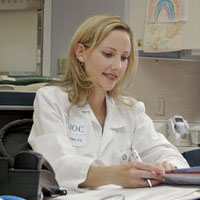 CHOC Children's is pleased to offer up to 3 one-year, full time, postdoctoral fellowships in the Department of Pediatric Psychology. The training year begins on August 30, 2010 and ends on August 30, 2011. The postdoctoral fellowship is a part of the Psychology Training Program that includes an APA accredited internship. The postdoctoral fellowship at CHOC offers advanced training in the area of child and/or pediatric psychology. The goal of the training program is to allow fellows to further their professional development so that they can function independently as a psychologist across a wide variety of settings. The training program is designed to allow for the natural progression from internship training, where a variety of new clinical skills are learned, to a greater focus on the application of these skills with an increasing degree of independence. Along with this focus, training increasingly focuses on the development of professional skills necessary for independent functioning (areas might include serving as a consultant within specific medical teams, program development, or grant writing). Fellows will receive training in assessment and consultation within a medical/clinical setting as well as additional experiences with more traditional outpatient cases.
The psychology post-doctoral program at CHOC specifically focuses on the refinement of specialized professional skills in child clinical and/or pediatric health psychology. During the year, post-doctoral fellows will function in increasingly independent roles as a psychologist building on your knowledge of child development and treatment, as well as refining your skills as a consultant. The program is committed to providing appropriate and relevant services to culturally diverse families. You will be exposed to a multicultural context that can challenge the professional adaptation of even the most seasoned psychologists. Orange County offers a very culturally diverse population. In particular, Orange County has significant Latino, Vietnamese, Indian, and Filipino populations.