CHOC Pressroom
KIDS' CRUSADER - DR. SHARIEF TARAMAN
May 05, 2014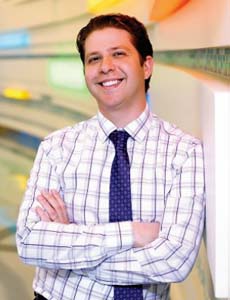 OC Register Metro's 40 Under 40
Published: May 1, 2014

KIDS' CRUSADER
Dr. Sharief Taraman, 34
Pediatric Neurologist/Assistant Clinical Professor of Pediatrics
CHOC Children's

Get Dr. Sharief Taraman talking about medical robotics, artificial intelligence or medical informatics, and his excitement is palpable.

In addition to his role as a pediatric neurologist, Taraman is conducting a number of research projects, one of which focuses on the brain-computer interface.
When Taraman started his own IT business at the ripe old age of 16, he never envisioned a future in medicine. However, his heart eventually led him down a completely different path.

"In high school, I defended a bullied student, who I now realize had neurological problems," he says. "Someone pushed her down the stairs, but no one did anything to help her. It planted a seed about pursuing a career dedicated to helping others."
Married with two daughters, the Laguna Niguel resident has a playful side. He has co-written a humor book about the wisdom of grandmothers and is working to have a screenplay that he co-wrote -- a horror-comedy -- made into a movie.

And picture this: Last Halloween, the esteemed doctor dressed up as Brainy Smurf -- and tweeted a picture to prove it.

- Larry Urish