CHOC Pressroom
CHOC IMPROVES OUTCOMES WITH BREAST MILK PROCESSING INITIATIVE
April 03, 2014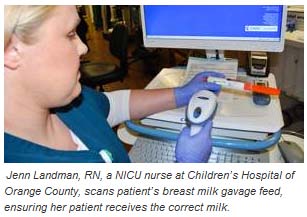 From www.nurse.com
By Debra Anscombe Wood, RN
Published: Thursday April 3, 2014
Determined to improve safety for patients receiving expressed breast milk, nurses at Children's Hospital of Orange County in Orange, Calif., teamed up with colleagues to develop a new process for collecting, storing and administering milk pumped by new moms for their babies' nutrition. Their quest improved expressed breast milk safety and provided nurses more time each shift to spend with the baby or family.
"It has made everything so much simpler for us, not just time saving but from a safety standpoint, which is everyone at the bedside's No. 1 priority," said CHOC NICU nurse Jenn Landman, RNC, BSN.
Hospital leaders pulled together nurses from every unit, as well as individuals from informatics and nutritional services and the medical staff to come up with a system that would reduce the risk of a baby receiving milk from the wrong mother or expired milk, said CHOC nurse educator Laura Luciani, RN, MSN, CPN, CPNP.
Everyone had a say in developing a common process, including units that rarely administer breast milk and the NICU where 90% of the moms pump at least a portion of their baby's feedings.
New process details
Under the new system, mothers can express breast milk at the bedside or in a pumping room. The mother places a barcoded label printed at the bedside on the 2-ounce bottles, including the date and time. The nurse usually puts the milk into the freezer. However, if the baby is hungry and does not require fortified milk, the nurse may immediately administer it.
A diet tech picks up the frozen milk, scans it into inventory and takes it to the nutrition lab, where the tech thaws enough breast milk for 12 hours, fortifies the milk as ordered and divides it into single-dose, barcoded bottles or syringes, depending on how the baby is being fed. During a two-month period, the lab checked in about 12,000 bottles of milk and prepared more than
13,000 feeds.
The lab returns to the unit refrigerator enough milk for the following 12 hours. The nurse checks the label, warms the milk and scans the baby's wristband before the milk is given to the child. Scanning automatically adds documentation to the electronic record about the quantity and fortification that was added.
Caroline Steele, RN, MS, CSP, IMCLC, director of CHOC's clinical nutrition and lactation services, said the American Dietetic Association's "Infant Feedings: Guidelines for Preparation of Human Milk and Formula in Health Care Facilities" recommends a centralized space to prepare breast milk. CHOC had a formula preparation space it converted and added equipment. Other hospitals, she suggested, may need to become creative, perhaps devoting a small section of the unit to breast milk preparation.