CHOC Pressroom
CHOC CHILDREN'S RANKED AMONG NATION'S BEST CHILDREN'S HOSPITALS
June 11, 2013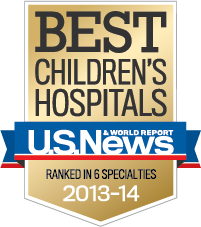 CHOC Children's has been ranked as one of the nation's best children's hospitals in U.S. News & World Report's 2013-14 Best Children's Hospitals rankings, available today at www.usnews.com/childrenshospitals. CHOC ranked in the following specialties: Cancer; Diabetes & Endocrinology; Neonatology; Neurology & Neurosurgery; Pulmonology; and Urology.
"CHOC deserves high praise," said Health Rankings Editor Avery Comarow. "Ranking shows the dedication and expertise that CHOC brings to the care of children who need those qualities the most. We think it's important to identify and call attention to pediatric centers like this one."
U.S. News introduced the Best Children's Hospitals rankings in 2007 to help families of sick children find the best medical care available. The rankings provide families with quality-related information at the individual hospital level.
Each hospital's reputation among doctors was only a small part of what U.S. News factored into its rankings. Three-quarters of each hospital's score was determined through an analysis of patient outcomes and data on the structural resources each hospital has in place to support pediatric care. To gather the data, U.S. News used two surveys: a clinical questionnaire sent to 179 pediatric hospitals and, for the reputational assessment, a survey of 150 pediatric specialists and subspecialists in each specialty.
The "Best Children's Hospital" distinction for CHOC coincides with the recent opening of The Bill
Holmes Tower. The seven-story patient care tower, which opened in Spring 2013, is designed to be
one of the safest, most advanced children's hospitals in the world. Featuring the region's only pediatric-dedicated emergency department, surgical suites, clinical laboratory and imaging services, the facility blends cutting-edge technology, safety and science to improve care and outcomes for children.

Named one of the best children's hospitals by U.S. News & World Report (2014-2015) and a 2013 Leapfrog Top Hospital for the highest quality of care, Children's Hospital of Orange County (CHOC Children's) is exclusively committed to the health and well-being of children through clinical expertise, advocacy, outreach, education and research that brings advanced treatment to pediatric patients. Affiliated with the University of California, Irvine, CHOC's regional health care network includes two state-of-the-art hospitals in Orange and Mission Viejo, many primary and specialty care clinics, a pediatric residency program, and four clinical centers of excellence - the CHOC Children's Heart, Neuroscience, Orthopaedic and Hyundai Cancer Institutes..

CHOC earned the Gold Level CAPE Award from the California Council of Excellence, the only children's hospital in California to ever earn this distinction, and was awarded Magnet designation, the highest honor bestowed to hospitals for nursing excellence. Recognized for extraordinary commitment to high-quality critical care standards, CHOC's Pediatric Intensive Care Unit (PICU) is the first in the United States to earn the Beacon Award for Pediatric Critical Care Excellence.
###
Media Contact:
Denise Almazan, Director of Public Relations
phone: (714) 509-8680
email: pr@chocchildrens.org