CHOC Pressroom
LITTLE LEAGUER'S HEART BACK IN THE GAME
April 10, 2013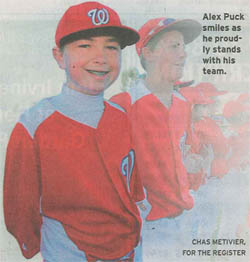 From The Orange County Register
Published: March 1, 2013
Dr. Farhouch Berdjis, Medical Director of the CHOC Cardiac Catheterization Lab, is quoted throughout this article.
The allure of Little League opening day lies in the possibilities that come with each spring's new season: crisp jerseys yet to be grass-stained, a new group of teammates to grow close with and a clean slate of a record.
For Lake Forest teen Alex Puck, who started the season a shade over six months after his second serious heart surgery, just being back on the field was enough.
"(It's) good, " Puck said, "because I didn't know that I was going to play baseball again."
On Aug. 22, surgeons at Children's Hospital of Orange County replaced a deterio rating valve in Alex's heart.
On Saturday night, Puck and the rest of the Nationals team took the field for their first game of the Lake Forest Little League Intermediate Division season.
Click here for entire article